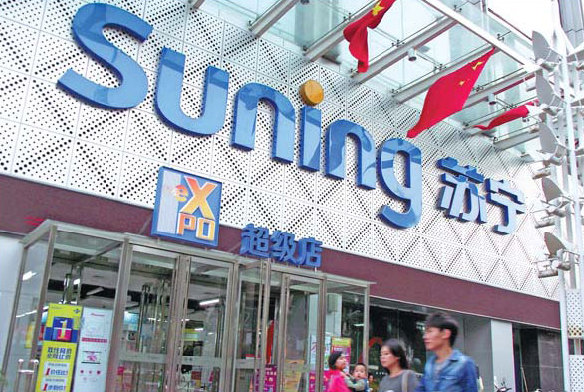 A Suning Commerce Group Co store in Changzhou, Jiangsu province.[Photo/China Daily]
China's largest electronics retailer Suning Commerce Group is taking further steps to diversify its business and consolidate its position as a major digital broadcaster of sports events in the country.
The Chinese company has inked a multimedia deal to broadcast the Spanish Soccer League (La Liga) matches live through several platforms, including online and television, for the next five seasons.
Suning will use PPTV, a major peer-to-peer streaming video platform to broadcast the games via its different digital settings starting Aug 21. In 2013, Suning became PPTV's largest shareholder with the acquisition of a 44 percent stake for $250 million.
Dong Li, deputy general manager of PPTV Sports Co, said: "PPTV wants to set up an independent subsidiary to focus on several aspects of the sports industry such as sponsorship and management of broadcast rights."
Although no financial details of the deal were disclosed, international media reported earlier this week that the State-owned China Central Television was also looking to acquire the broadcast rights for the prestigious Spanish league for about 375 million euros ($407 million) for five seasons, or roughly 5 million euros per year. Suning officials, however, declined to comment on the exact figure the company paid for getting the rights.
The agreement is expected to represent a significant boost in broadcast revenues for the Spanish teams. During the 2013-14 season, the top soccer competition in Spain generated 949 million euros of broadcast revenues, according to figures provided by the United Kingdom-based consultancy firm Deloitte Ltd.
"La Liga is expected to overtake Germany's Bundesliga as the second-highest revenue generating league in Europe by 2016-17 after the English Premier League", Deloitte said in a recent report.
Commenting on the deal, Javier Tebas, president of the Spanish Football League, said in Nanjing: "From now on, there will be a before and after in the relationship between La Liga and China. It will be essential to reach all fans in China. Suning and (online channel) PPTV will bring the Spanish League into Chinese households."
Opening up of the sports broadcasting market to more media companies was expected to help Chinese digital media platforms attract more audiences, earlier media reports said.
The surge of new media platforms in China has challenged the dominant market position of the traditional TV broadcasters as they are offering higher fees to the clubs to secure the rights and offering improved user experiences with latest technology.
Austin Houlihan, senior manager in the Sports Business Group at Deloitte, said: "In an increasingly fragmented media landscape, broadcasters recognize that premium sports content is unique in drawing live, loyal and social audiences."
Last year, PPTV acquired the rights to broadcast 10 live English Premier League games, including six pay-per-view matches every week for the 2014-15 season by paying $11 million to Super Sports, the exclusive Premier League broadcast rights-holder for the Chinese mainland.
This summer, several Spanish soccer teams have been on the hunt to strike commercial deals in the Chinese market.
Andrew Collins, a Shanghai-based digital entrepreneur with Mailman Group, who specializes in helping European soccer teams establish an online presence in China, explained: "In the next 10 years, China will be at the top or the second-highest priority for European soccer teams. In 2015, we have seen a lot of new investments and interest in the sport. And this is only going to grow faster and faster."
Contact the writers at emmagonzalez@chinadaily.com.cn and wangzhuoqiong@chinadaily.com.cn