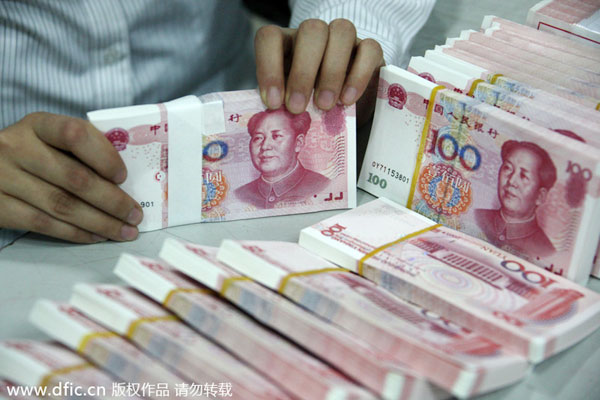 A clerk counts yuan bills at a bank in Huaibei, East China's Anhui province. [Photo/IC]
Bad loans at Chinese banks rose 35.7 percent during the first half of 2015 as economic growth remained sluggish and manufacturers struggled, the chairman of the banking sector regulator said.
Shang Fulin, chairman of China Banking Regulatory Commission (CBRC), told an internal meeting last week that non-performing loans (NPLs) at banks rose 322.2 billion yuan in the first six months of the year to 1.8 trillion yuan ($289.9 billion), according to a transcript of the meeting seen by Reuters.
He also said the banks' profit growth in the first-half slowed by 13.03 percentage points from a year ago, with total net profits amounting to 1.1 trillion yuan in the first six months.
"In the bigger context of (China's) economic slowdown, the whole truth of the banking sector's credit risks is beginning to emerge," Shang said, according to the transcript.
Lower profit growth will "reduce shareholder return, weaken banks' capability to supplement capital and prevent risks", he added, saying it was now the "new normal".
The proportion of NPLs rose 0.22 percentage points from the beginning of the year to 1.82 percent of all loans at end-June, Shang said.
China's five biggest State-owned lenders, which include the Industrial and Commercial Bank of China Ltd, China Construction Bank Corp, Bank of China Ltd and Agricultural Bank of China Ltd, are expected to report first-half earnings in the next few weeks.
As China restructures its economy, the total number of industrial companies reporting losses increased 11 percent in May from a year earlier, Nomura said in a July 21 report. Total losses at the firms rose 15 percent during the same period.
Separately, Shang said China Development Bank and the Export-Import Bank of China had received 568.9 billion yuan in capital injections.