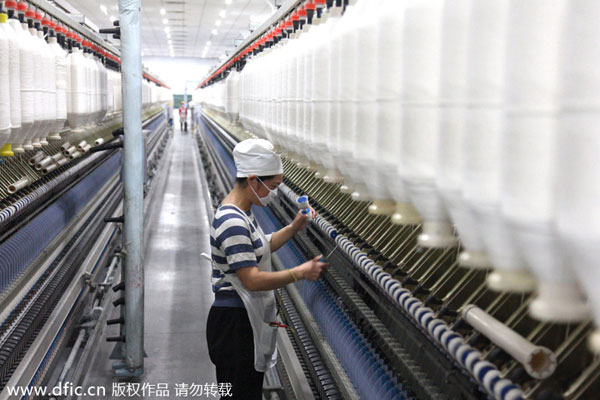 A female Chinese worker handles production of yarn at a textile plant in Xuchang city, central Chinas Henan province, Feb 10, 2014. [Photo/IC]
Setting a target for economic development over the next five years is expected to be high on the agenda at the upcoming annual meeting of CPC leaders in Hebei province.
Since the Mao Zedong era, it has been a tradition for leaders of the Communist Party of China to attend a closed-door meeting in the coastal town of Beidaihe in the summer.
Chi Fulin, president of the China Institute of Reform and Development, expected the Beidaihe meeting to make decisions related to the 13th Five-Year Plan (2016-20) that "meet the demands of China's development, alleviate the short-term downward pressure and have a great impact in the middle and long term".
"At the moment, I believe a successful strategy is far more important than solving one or two concrete issues," Chi said.
He said such a strategy can set stable expectations for the middle term, giving people confidence to face short-term downward pressure.
The 13th Five-Year Plan will be the first five-year plan by the current central government, and the last one before fulfilling the target of building a well-off society in an all-around way before the 100th birthday of the CPC in 2021.
The report of the 18th CPC National Congress said in late 2012 that GDP and the per capita income of urban and rural residents in 2020 should be double that of 2010.
The Beidaihe meeting comes on the heels of a meeting of the Political Bureau of the CPC Central Committee, which was held on July 30 and pledged to step up targeted policies to combat the downward pressure on the economy.
It was the second meeting of the Political Bureau in 10 days. The first, on July 20, focused on the 13th Five-Year Plan.
"The 13th Five-Year Plan is the deciding phase in the process of building a well-off society in an all-around way," said a statement issued after the meeting.
Regarding development in the coming five years, Chi highlighted the "great potential" in upgrading China's service sector. He estimated that China's consumption market will double by 2020, with a large part of that in the service sector.