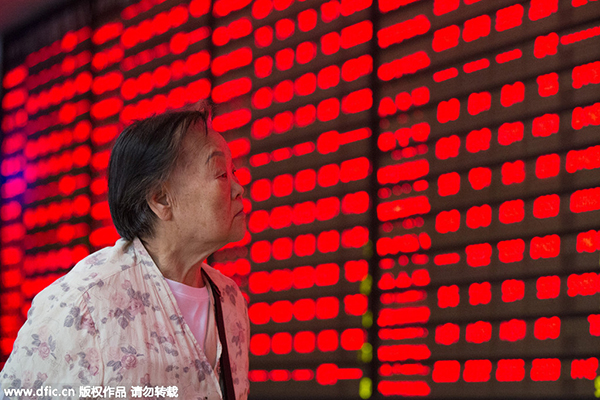 Investors monitor share prices at a brokerage in Nanjing, Jiangsu province, Aug 4, 2015. [Photo/IC]
Stocks rallied on Tuesday from a three-week low, as authorities announce curbs on intraday short-selling to further shore up the market.
The Shanghai Composite Index closed at 3,756.55, up 3.7 percent, while the Shenzhen Component Index advanced 4.5 percent to 12,711.56.
More than 650 stocks jumped by the daily limit of 10 percent, led by aerospace and industrial companies. About 906.5 billion yuan of equities changed hands at the two markets.
Aerospace-themed companies such as China Spacesat Co, Sichuan Jiuzhou Electric Group and BRStar Navigation surged 10 percent. China Southern Airlines and China Eastern Airlines rallied 10 percent.
The rebound after a three-daily decline came, as securities regulators earlier announced that investors who sell borrowed shares must wait one day to pay back their positions.
The move, which comes into effect immediately, prevents investors from selling and buying back stocks on the same day, a practice that may "amplify abnormal fluctuation in stock prices and affect market stability," said the Shenzhen bourse on its official microblog on Monday night.
The adoption of the T+1 rule for short selling won't affect normal margin trading and securities financing and will help strengthen market stability, added the exchange.
Securities watchdogs have unveiled a string of policies to shore up the market, as the benchmark Shanghai index lost 30 percent from its June 12 peak, which included suspending initial public offerings, banning major shareholders from selling, investigating into "malicious short-selling" and granting government agency liquidity to help finance stock purchases.
The exchanges have frozen 38 trading accounts, including one owned by hedge fund magnet Citadel Securities LLC, according to Bloomberg, as algorithmic trading comes into authorities' attention as they seek causes behind market volatility.
The CSI 300 index climbed 3.1 percent on Tuesday to 3,948.16.