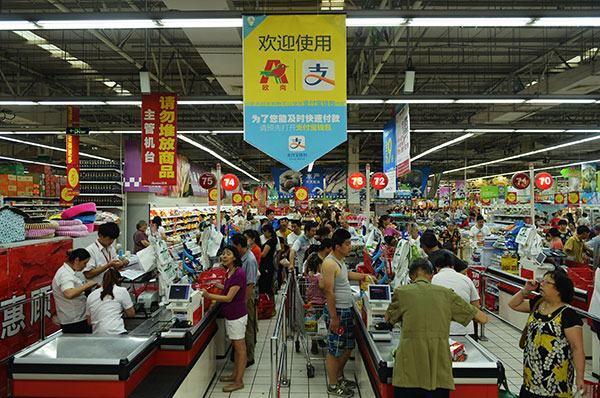 Customers billing purchases at a supermarket in Hangzhou, Zhejiang province. China plans to tighten regulatory controls on the country's nearly 300 online payment firms, including Alibaba Group Holding Ltd's finance affiliate Alipay. [Long Wei / For China Daily]
China plans to tighten regulatory controls on the country's nearly 300 online payment firms, including Alibaba Group Holding Ltd's finance affiliate.
The draft rule, published by the People's Bank of China, the central bank, on Friday, has triggered concerns among the general public as it imposes a cap on the amount that can be spent online via third-party payment platforms.
Industry observers said that rather than making people's life convenient, the draft rule aims to curb online payment companies from providing services that are otherwise provided by financial institutions.
Under the draft, the PBOC plans to limit the amount an individual can pay online to 5,000 yuan ($800) per day through third-party payment accounts, unless the customer's identity can be verified by a security token and electronic signature.
The central bank is seeking public feedback on the move by Aug 28.
Many Internet shoppers expressed their frustration, saying that 5,000 yuan is not enough to buy an iPhone online.
In an unusual gesture, the central bank issued a follow-up statement during the weekend to clarify the "misunderstanding" of the draft rule. It said that customers with at least five methods of verifications can open a so-called "comprehensive account", which limits annual online or mobile payments to 200,000 yuan per person.
With three to five verification methods, customer can only open a "consumption account", with an annual transaction limit of 100,000 yuan.
Ma Tao, an Internet finance analyst at consultancy firm Analysys International, said that people's user experience is expected to remain more or less the same as online payment firms will work closely with banks to provide verifications that can live up to the requirement.
"The goal of the draft rule is to limit the business portfolio carried out by third-party payment firms as an increasing number of them have expanded their business to engage in peer-to-peer lending, wealth management and other services that were earlier offered by financial institutions in China," he said.
With mobile Internet becoming an increasingly integral part of people's lives, especially for those in urban areas, Internet-based payments have been adopted on an increasing number of occasions, from online shopping to more and more offline supermarkets, restaurants and cinemas.
Internet finance is also posing a rising threat to Chinese brick-and-mortar banks, which have lobbied for more regulations on third-party payments and peer-to-peer lending platforms.
Statistics from iResearch Consulting Group show that China's third-party payment market jumped 50.3 percent year-on-year to 8.08 trillion yuan last year.
However, Ma said the business of Alipay, China's largest online payment tool backed by Alibaba, and Tenpay, the payment tool under Tencent Holdings Ltd, will remain intact as the two online payment leaders, with a combined market share of 69.1 percent in 2014, have made a lot of efforts to evolve from an online payment tool to a comprehensive online finance services provider.
"Both of the giants have already gained licences to operate online banks. But for small online payment firms, the draft regulation will restrict their innovation capabilities and make it difficult for them to compete in the long run," said Ma.