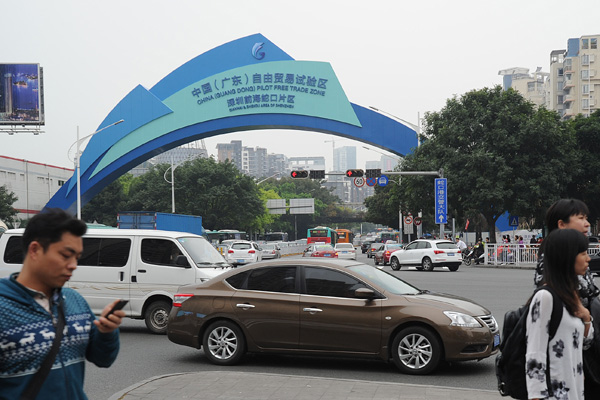 The Qianhai and Shekou areas of the China (Guangdong) Pilot Free Trade Zone in Shenzhen. [Photo/China Daily]
Qianhai, a major financial center in Shenzhen, is considering setting up an international board to further enhance its capabilities as a trade financing center and in renminbi internationalization.
The international board plan follows similar plans envisaged by Shanghai some five years ago, said experts.
Tian Fu, director of the administrative committee of the Qianhai and Shekou Area in the China (Guangdong) Pilot Free Trade Zone, said the administration will explore the possibilities for an offshore securities exchange (named international board or Silk Road board), primarily to support the listing plans of companies on the Belt and Road, referring to the Silk Road Economic Belt and the 21st Century Maritime Silk Road.
"The international board will help monetize renminbi investment," Tian said: "The aim is to make use of market-oriented measures to integrate these countries' economies with our capital market."
The Shanghai Stock Exchange in 2010 planned to launch an international board that would allow offshore companies to sell shares, but the plan was shelved due to potential problems in share price evaluation, unpredictable capital flows and supervisory issues.
In March, Zhang Hongli, a member of the National Committee of the Chinese People's Political Consultative Conference, proposed the setting up of the international board to aid the Belt and Road strategy and the internationalization of the renminbi.
"Within the Belt and Road area, there are 65 countries and most of them are emerging or developing economies," Zhang said. "Some companies with satisfactory performance in these countries are in need of safe, efficient and direct financing channels."
Zhang said overseas companies would be able to directly list on the new board as normal stocks denominated in Chinese currency and overseas investors can sell and buy these stocks without any limitation on foreign capital size and percentage.
Shenzhen, positioned as the bridgehead of the country's 21st Century Maritime Silk Road, has started to proactively assess the possibility of the new board.
Yang Delong, chief strategy analyst at China Southern Asset Management Co Ltd, however, estimated that the number of listed companies would be limited.
Previously, several foreign companies, including HSBC Holdings Plc, Standard Chartered Plc and Bank of East Asia Co, had evinced interest in listing on the proposed Shanghai international board.
The 21st Century Business Herald said that regulators planned to allow a first batch of 10 foreign and overseas-listed Chinese companies to list on the Shanghai new board.