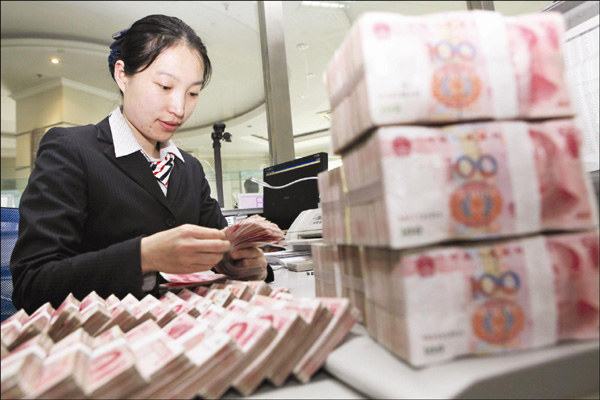 A teller counts money in a bank in Ganyu county, eastern Jiangsu province. The IMF is expected to declare soon that the currency is now fairly valued. [Photo/China Daily]
Ministries, Supreme People's Court promise to work together more
China's central bank and other government agencies have vowed to step up efforts to combat money laundering, following recent high-profile cases.
A statement on the People's Bank of China website on Monday said that an inter-ministerial meeting led by the bank to discuss combating illegal money transfers was held in Beijing on Friday.
Guo Qingping, a vice-governor of the bank, delivered a report on China's anti-money-laundering efforts and outlined further plans.
To improve the effectiveness of such work, delegates attending the meeting from more than 20 departments, including the Ministry of Public Security and the Supreme People's Court, agreed to strengthen inter-ministerial coordination.
They also agreed to focus on addressing the "institutional roots" of the problem and to step up efforts in the nonfinancial sector.
They decided to set up a statistics system to combat money laundering and to increase surveillance on such crimes being committed through the Internet.
The meeting followed several high-profile cases involving Chinese banks' overseas branches.
In June, Italian prosecutors accused Bank of China, the country's fourth-largest State-owned lender, along with 297 individuals-mostly Chinese citizens living in Italy-of transferring about $5.1 billion earned illegally there to China.
They alleged that nearly half of the money was transferred between 2006 and 2010 through the bank's Milan branch.
Bank of China later said it had ordered all overseas branches to strictly follow the financial regulations of China and the countries in which it operates, and that all its business "must be legal".
In another case, the US Federal Reserve told China Construction Bank to strengthen its anti-money-laundering framework, the first such action by the US central bank against one of China's four largest State-owned banks.
China Construction Bank has not yet responded publicly.
Last week's inter-ministerial meeting also examined a working plan for China to submit its evaluation of anti-money-laundering efforts and terrorist financing at the request of the Financial Action Task Force.
China is a member of this body, an intergovernmental organization that develops and promotes policies to combat money laundering.
Stanley Lubman, a lecturer at the School of Law at the University of California, Berkeley, wrote in an article, "As China's international economic relations continue to expand, China must be willing to cooperate to detect and punish cross-border crimes that are multiplying."
He also noted that when foreign authorities investigating money laundering cases seek cooperation from Chinese banks, they often encounter difficulties such as "inconsistent cooperation, incompatible legal systems and China's secrecy laws".