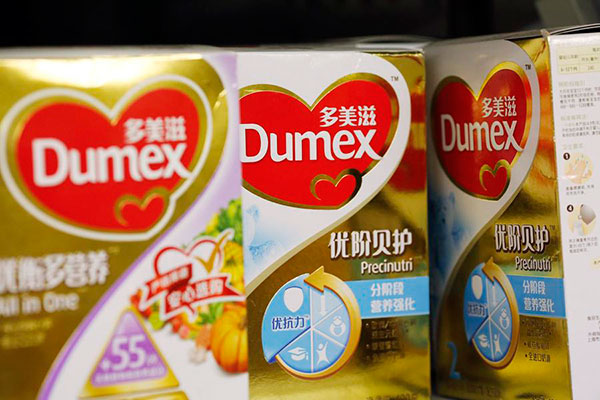 Dumex milk powder products of Danone are seen on display on shelves at a supermarket in Beijing, February 17, 2014. [Photo/Agencies]
Danone plans to sell the Dumex infant formula brand to a unit of China Mengniu Dairy Co amid a downturn in demand for locally made baby food in that market.
Danone has agreed to sell Dumex to Yashili International Holdings Ltd, and will use the proceeds from the sale to take up more shares in Mengniu, a State-linked milk producer, the two Chinese companies said in a statement on Friday. The Paris-based food company separately said it took an impairment charge of 398 million euros ($437 million) as it revised Dumex's sales prospects lower.
The infant formula industry "is not a very attractive business to be in right now", said Robin Yuen, an analyst at RHB OSK Securities Hong Kong Ltd. "It is not doing well and there is too much competition. Mengniu can run the business better than Danone can in China, due to their distribution network."
The deal would allow Danone to tap into a company whose revenue almost doubled in the past five years. It would also turn Mengniu into one of China's largest baby milk powder sellers, in a market that Euromonitor International Ltd forecast will be worth 122.1 billion yuan ($20 billion) in 2015. Danone expects to boost its 9.9 percent stake in Mengniu by about 2 percentage points, Chief Financial Officer Cecile Cabanis said.
Chinese consumers are increasingly buying foreign-made infant formula from online sites amid concern about the safety of locally produced baby food after past food scares. Demand for foreign-made formula from China contributed to a double-digit percentage increase in Danone's sales in Europe, the company said on Friday.
Danone, the world's biggest yogurt maker, also said first-half adjusted operating profit rose 17 percent, meeting analysts' estimates, as second-quarter like-for-like sales gained 4.6 percent, exceeding the 4.3 percent average estimate.
China's infant milk formula industry "has long passed its prime moment when brands could make good profits easily", and industry consolidation is expected, Morgan Stanley analysts led by Dustin Wei wrote in a July 15 report.
China's "mini baby boom" from 2008 to 2014 has ended because of lower numbers of women of childbearing age, and the decreasing or delayed willingness to have children despite the government's easing of its one-child policy.
Yashili and Beingmate Baby & Child Food Co are expected to be market consolidators, even as e-commerce emerges as a sales channel allowing strong brands to win share, the Morgan Stanley analysts wrote. They estimate a 6-8 percent growth in the industry this year before dropping to 2-4 percent in the 2017-18 period.
Danone had an 8.1 percent share of the market in 2014, behind Nestle SA's 13.4 percent and Mead Johnson Nutrition Co's 10.1 percent, according to Euromonitor. Mengniu is ranked eighth with 4.1 percent.
Biostime International Holdings Inc said on Thursday first-half profit will probably plunge 36 percent as it discounted older versions of infant formula to make way for new products.
Danone, whose Dumex's business in China was fined in 2013 in a government price-fixing probe, already owns a quarter of Yashili, after agreeing to pay HK$4.39 billion ($566.4 million) for the stake in October. Mengniu controls 51 percent of Yashili.