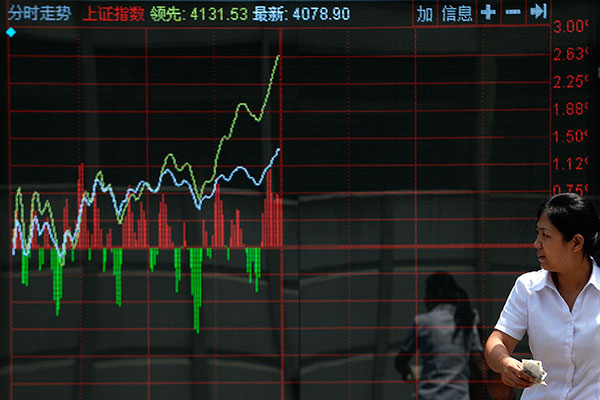 The stocks indicator at a brokerage in Beijing. CSF has injected hundreds of billions of yuan in the A-share market by substantially boosting its stock holdings. [Photo/China Daily]
CSF fund infusions inject fresh energy into China's ailing capital markets
The stock market rout has put the State-owned margin lender China Securities Finance Corp, an obscure financial institution until recently, under the spotlight as any move by the company could potentially cause waves in the market.
CSF, the main government rescuer amid the market turmoil, can feel justified to call its recent market-lifting effort an interim victory after the A shares gained for the sixth consecutive day on Thursday.
The company has injected hundreds of billions of yuan in the market by substantially boosting its stock holdings, making itself among the top 10 shareholders of many listed companies.
But the buying spree to stabilize the market is also putting a growing burden on the company as any signs of it reducing or exiting its positions would likely trigger another heavy sell-off as investors fear that the government support could be fading.
In an attempt to allay investors' concerns, the company said late on Wednesday that it had not sold shares in any listed companies.
But the company admitted that it had transferred part of its stakes that exceed 5 percent of the total capitalization of listed companies into mutual fund accounts.
The move will grant the company greater flexibility to manage its holdings as the securities regulator has prohibited shareholders who own stakes of more than 5 percent in a listed company from selling their shares for six months.
But the A-share market's sensitive dependence on government funds has raised concerns from experts who are calling for greater participation of market-driven institutional investors as a stabilizing market force in the future.