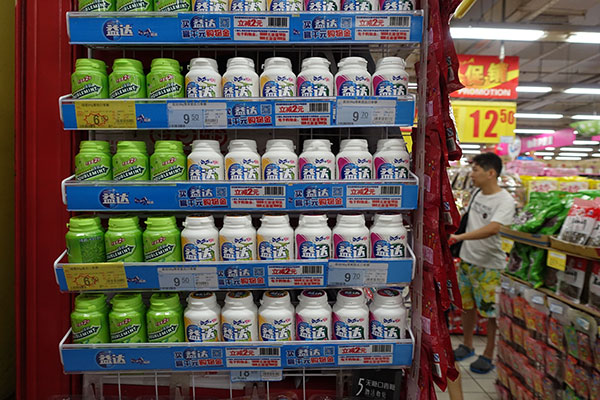 Different chewing gum products displayed in plastic bottles crowd the shelves of a supermarket in Beijing. [Photo/China Daily]
Sales will continue to grow as major companies roll out new products with long-lasting flavors in a highly competitive market
Wallace Chung looked as if he had just stepped off a movie set. Dressed in an electric blue jacket with matching white shirt, trousers and shoes, the Hong Kong actor and recording artist was ready to meet his adoring audience to talk about his latest venture-chewing gum.
Picked to promote the new Trident brand, Chung posed for pictures and smiled at his fans as part of a major promotional campaign launched by the world's leading snack maker Mondelez International Inc.
The splashy event at the Orange Hall in the glitzy Taikooli of Sanlitun area of Beijing last month pulled in an army of photographers to capture Chung's every move.
"This confectionary category has big investment potential, which will lead to the introduction of a string of new brands," Jason Yu, general manager with the research company Kantar Worldpanel China, said.
"By inviting Chung, who is a successful, professional actor, Trident is targeting a new group of consumers, who are mostly white-collar workers or family-oriented."
Last year, the chewing gum market in China, the second-largest behind the United States, was worth 18.85 billion yuan ($3.03 billion), a research report released by Mintel Group Ltd, a market intelligence agency based in the United Kingdom, highlighted.
About 125,000 metric tons of gum was sold, retailing at between 2.5 yuan and 16.9 yuan.
Globally, the sector was worth $24.7 billion in 2014, Euromonitor, a privately owned market intelligence firm based in the UK, reported.
Projected growth of 32 percent to $32.5 billion is expected during the next five years.
In China, gum sales grew 10 percent last year compared to 2013 and they are expected to expand by 6 percent annually by 2020.
Here, Mondelez had just 5.5 percent of the market with its Stride brand in 2014.
The leading player was Confectionery China Ltd, part of Mars Inc, with its Extra, Double Mint and Five products taking 67 percent of sales, according to Kantar.