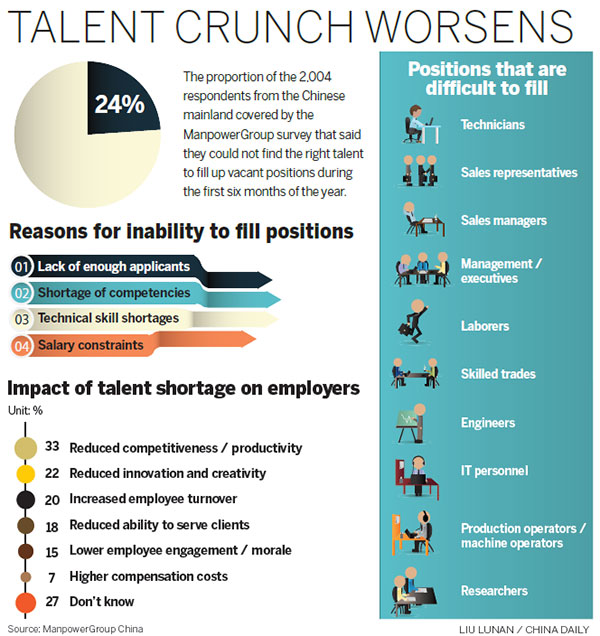 A shortage of talent continues to be the primary concern for Chinese companies, with technicians, sales representatives and sales managers being the most in demand, a new industry survey said on Wednesday.
The survey, conducted by ManpowerGroup Inc, a global workforce solutions provider, indicated that about 24 percent of employers in the Chinese mainland suffered from an acute talent crunch.
About 53 percent of employers said they faced difficulties in filling some positions on the mainland this year compared with 2014.
The 2015 talent shortage survey covered more than 41,000 employers across 42 countries and regions, including 2,004 on the Chinese mainland, during the first quarter of 2015 and gauged the impact of talent shortage on the global workforce market.
"Technology is evolving faster than ever, changing the skills needed for jobs and shortening the life cycle of the skills. Still, there is a growing mismatch of in-demand skills with talent supplies," said Zhang Jinrong, managing director of ManpowerGroup China.
"Talent shortages not only affect the companies' capabilities, but also hinder innovation in China. What employers should do is to find the right talent externally, as well as foster a learning culture within their organizations and encourage employees to own their careers."
Sales representatives and sales managers rank once again in the top three vacancies this year. Environmental and market factors are the major reason for the hard-to-fill vacancies in China. In these factors, lack of applicants is the most highlighted one, accounting for 31 percent.
That is followed by workplace competencies, such as lack of experience and professionalism, as well as technical competencies and organizational factors, such as looking for more pay than is offered, according to the report.
The talent shortages and skills gaps have started to affect companies.
About 33 percent of the respondents said the most common impact is reduced competitiveness or productivity, followed by reduced innovation and creativity at 22 percent, and increased employee turnover at 20 percent.
According to the survey, 68 percent of the employers reporting talent shortages said the problem has a medium-to-high impact on their ability to meet client needs, with only 12 percent indicating no impact on client requirements.
Chinese employers adopt a range of strategies to address talent shortage, with 33 percent of the employers indicating their desire to tap new talent sources, including adapting talent sourcing to recruit more untapped talent pools, appointing people who do not have the skills currently but do have potential to learn and grow, followed by implementation of alternative work models.
The report also found that the Belt and Road Initiative has encouraged more Chinese companies to go global and expand investments overseas, thereby increasing the need for talent with both foreign and Chinese backgrounds, Zhang said.
In 2015, nearly 7.5 million graduates will enter the Chinese job market, up 3 percent year-on-year.
However, the increasing graduates will face a shrinking job market with ever-changing in-demand skills, Zhang said.