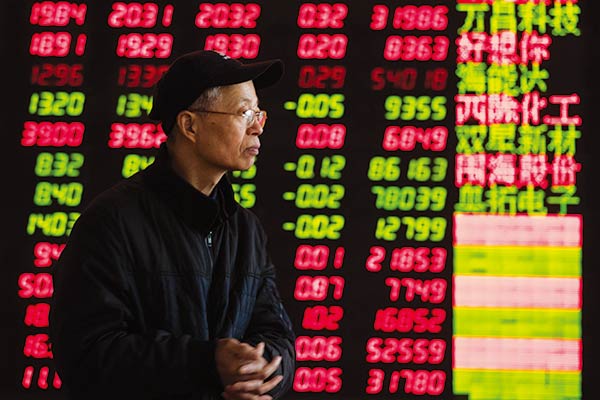 Stock information is displayed at a trading hall of a securities firm in Shanghai.[Photo/Agencies]
Recent overweighting to stem A-share plunge has made China Securities Finance Corp (CSF), central bank-backed refinancing institution, among top 10 shareholders of many listed-firms, reported Securities Times on Wednesday.
Among all investments, eight firms have been confirmed of the CSF's stake, which include property developer Dulexe Family, Hualan Biological Engineering, resource purifying developer SJ Environment Protection, Yunnan Tin Company Group, Fujian Cosunter Pharmaceutical Co, Hunan Er-Kang Pharmaceutical Co, digital map provider NavInfo Co, and retailer Friendship&Apollo.
The CSF has been listed as the second-largest holder of tradable shares at Cosunter Pharmaceutical, third largest at SJ Environment Protection, and fifth-largest shareholders at Yunnan Tin Company, according to the Times citing disclosures to Shanghai and Shenzhen stock exchanges.
Some listed companies dismissed the disclosing request for regulatory reasons, said the newspaper.
According to Securities Law, investors holding more than 5 percent stake of a listed company shall file a written report to China Securities Regulatory Commission and stock exchanges and notify the company to release an announcement within three days.
Central bank made voice on July 9 as the benchmark Shanghai index dived to a trough of 3373.54, saying it has provided sufficient re-lending to the CSF.
The State-owned CSF, founded as the only institution to offer margin financing loans to brokerages, had pledged credit of 260 billion yuan ($42 billion) for 21 securities firms to purchase shares on the market, said the central bank.
The market has rebounded since regulators intensified supportive measures, as the Shanghai Composite Index closed at 4,206.05 on Wednesday, pairing its loss from the June 12 peak to 22 percent.