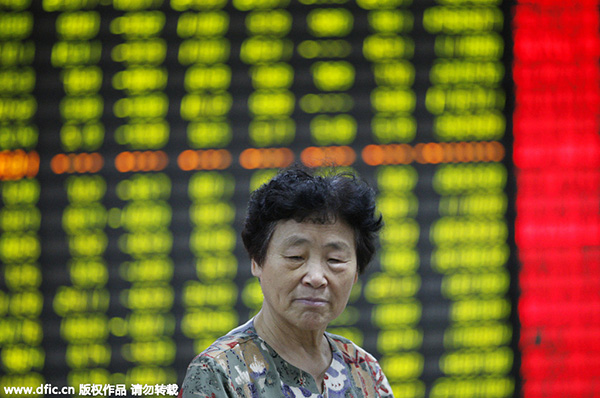 An investor loses smiles when checking on stock index at a brokerage house in Huaibei, Anhui province, July 15, 2015. [Photo / IC]
BEIJING -- The recent stock market turbulence will not have a major spillover effect on China's real economy, global rating agency Moody's said Thursday.
The equity market turmoil does not warrant a change in the agency's forecast that China's real economic growth will reach 6.5 to 7.5 percent this year and 6 to 7 percent in 2016, Moody's Investors Service said in a report.
Moody's report came after the country released a second quarter growth figure of 7 percent year on year on Wednesday, beating a median market forecast of 6.9 percent.
China's stock market has been on a roller-coaster ride in the past few weeks. The benchmark Shanghai Composite Index slumped more than 30 percent at its lowest point from the peak in June. It rebounded on government support measures but fell back into the negative territory this week.
The government has enacted several moves to prop up the market, including pouring in funds backed by the central bank, easing rules for insurers to invest in blue-chips and asking major securities brokers to spend billions of dollars on stock purchase.
"The direct impact from heightened volatility in China's equity market on financial sector output growth will be limited, while the indirect effects of market uncertainty on consumer spending, employment and corporate investments will be similarly muted," says Michael Taylor, a Moody's managing director and chief credit officer for Asia Pacific.
Should securities companies run into trouble, the potential for contingent liabilities to crystallize on the country's sovereign balance sheet would be manageable, the agency said.
Commercial banks' direct exposure to the domestic equity market is low, and the stock market rout will not have a significant impact on credit quality, the agency said.
However, it expected the government's encouragement for banks to lend to listed companies in order to purchase their own shares will risk increasing the sector's exposure to market volatility and to borrowers with rising financial leverage over time.
With a more volatile stock market, Chinese companies will reduce their access to equity capital, but this accounts for only a fraction of corporate funding, the report said.
Nevertheless, in the longer term, the impact on Chinese firms could be more negative if stock market weaknesses are to persist so as to discourage companies from raising their equity funding, it said.