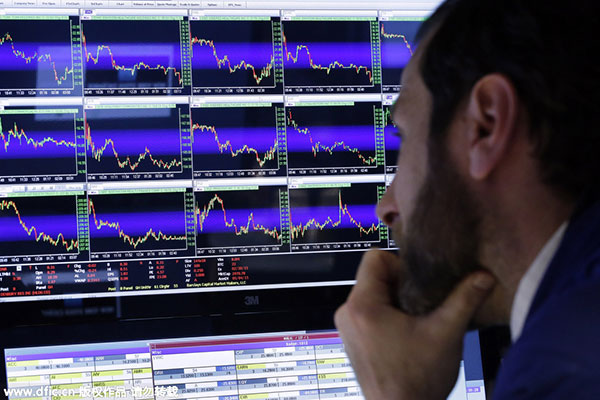 Michael Pistillo watches his screens at his post on the floor of the New York Stock Exchange. [Photo/IC]
Shares of some United States-listed Chinese companies stumbled on Tuesday as investors appeared to flee anything connected to the turmoil of the mainland's stock market.
"I think that US investors have been bombarded over the last month with the onshore sell-off. They're being sold down because a lot of the US names reflect how US investors view China. The sentiment is very poor right now so they're being sold down," said Brendan Ahern, chief investment officer at Krane Shares, a US-based provider of China-focused exchange-traded funds.
China's benchmark stock market index has now lost more than 30 percent after hitting a peak in mid-June.
The selling of Chinese listed shares in the US included well-known names like Alibaba Group Holding Ltd, which ended down less than 1 percent after tumbling to its lowest since an initial public offering last year. JD.com Inc sank as much as 12 percent before losing 4 percent. Small caps like online recruiter Zhaopin Ltd fell nearly 6 percent.
Peter Halesworth, founder and portfolio manager of Heng Ren Investments in Boston, said the US-listed shares are feeling the effects of the Chinese sell-off but he noted that the US-listed index has outperformed the Chinese mainland exchanges because valuations are much lower.
"Chinese investors should see a great opportunity to buy their companies here in the US at a fraction of the valuations on the mainland, and with less valuation risk. I think the relative defensiveness will become clear. International and Chinese investors should take advantage of this," Halesworth said.
Before China's market tanked, about 20 Chinese companies that were listed on US exchanges received bids to go private and then relist on the mainland later to take advantage of the soaring Chinese markets. That strategy is now a casualty of the stock market sell-off.
Ahern said small caps had more of a premium because they had the option of relisting on the mainland. "Obviously the feasibility of doing that now is very low," he added.
"For those US companies that are going private, they will probably abandon their plans because there's no more valuation arbitrage to take from delisting on one market and relisting on another market," noted Jack Liu, senior vice-president of Chardan Capital Markets in New York.
"When the market is really booming, everyone is underestimating the risk and the hustle that's involved in going private and relisting on the domestic market. But now people are becoming more realistic and they are taking another look. When they take another look at the risks and fluctuation in the process, they will of course have a different view."
Liu said that the US used to be one of the best markets for Chinese stocks. "I think they will be looking at the US again, but probably not really in the near term. At this point, everyone is focusing on their loss in China and some of the best companies are dealing with private equity firms in China who have been forcing them to go public in China. They have their own problems to deal with and before they have some clarity and comfort in the domestic market, I don't think they're going to venture into a totally different market or plan as they had previously wanted to," he said.