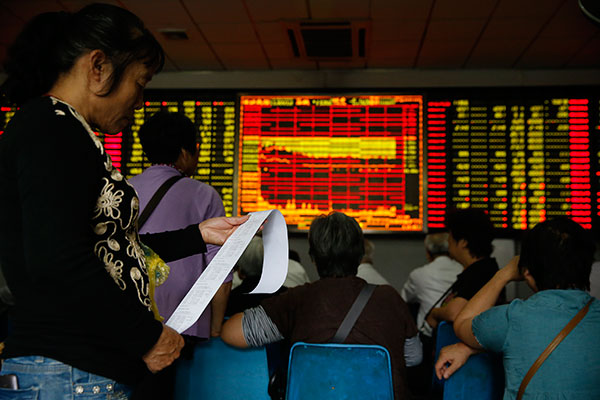 An investor checks her trading records at a brokerage in Shanghai on Tuesday. The benchmark Shanghai Composite Index has fallen by about 30 percent in the past three weeks. [Photo/China Daily]
Wang Qianli, an office worker in Shanghai, has lost half of her savings by playing the stock market.
The 24-year-old decided to invest 40,000 yuan ($6,440) in the market last month after friends told her that they had made roughly one year's salary through their stock portfolios by the middle of June.
In the space of two weeks, Wang had lost half of her savings, or 20,000 yuan, as the benchmark Shanghai Composite Index tumbled about 30 percent.
Now she is picking up the pieces of her failed investments by reading books about stock trading and the risks involved in pumping cash into the markets.
"I should have had a working knowledge about the stock market before I started investing," Wang said." I didn't even know how to read the charts. Investing in the stock market just felt like gambling."
Wang's story is not unique as a lack of awareness of how markets work is proving a major problem for small investors.
On the official website of the Securities Association of China, 21 major brokerages posted a statement earlier this month advising smaller investors to understand the risks before investing in the market.
The association also said that brokerages have a responsibility to inform investors about how markets operate and warn them of the dangers they face during volatile trading.
"It's up to the brokerages to help educate small investors on how the markets work," the statement said.
In mature markets, institutional investors account for the majority of traders. But in the A-share market in China, retail investors make up 80 percent of the trading in equities. Many of them are small traders investing their life savings.
Understanding how markets operate and investing in the right companies are vital, according to Ma Jiaping, a wealth product manager at Bank of Shanghai.
"A lot of investors have just copied their friends or families when making investment decisions," Ma said. "This can be quite dangerous."
"When funds were popular, everyone invested in them. When gold was hot, everyone flocked to buy gold," Ma said. "It's like a man who cannot swim diving into the sea just because he sees other people are swimming."