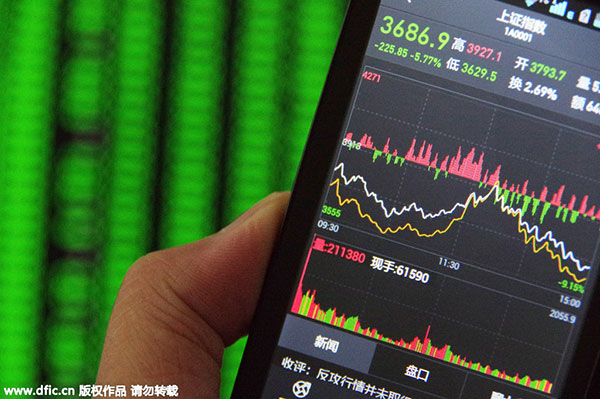 A Chinese investor watches the stock trend on the cell phone at a stock brokerage house, July 3, 2015.[Photo/IC]
BEIJING - China's securities regulator said Sunday night that the China Securities Finance Co., Ltd. (CSF) would raise funds through multiple channels and expand its business scale to help keep the stock market "stable".
The People's Bank of China, the central bank, will assist the CSF to access more liquidity, the CSRC said.
The CSF is a financial institution jointly founded by Shanghai Stock Exchange, Shenzhen Stock Exchange and China Securities Depository and Clearing Corporation Ltd. in 2011.
A raft of supportive measures have been rolled out to prop up the slumping stock market. The benchmark Shanghai Composite Index tumbled by 29 percent in three weeks, including a 12-percent loss this week.
On Saturday, China's 21 major securities brokers announced they would spend no less than 120 billion yuan ($19.62 billion), or 15 percent of their total net assets, on blue chip Exchange Traded Funds.
Twenty-eight Chinese companies that have obtained permission from the CSRC for initial public offerings (IPOs) said they would postpone follow-up issue of shares to avoid draining market liquidity caused by a shares glut.