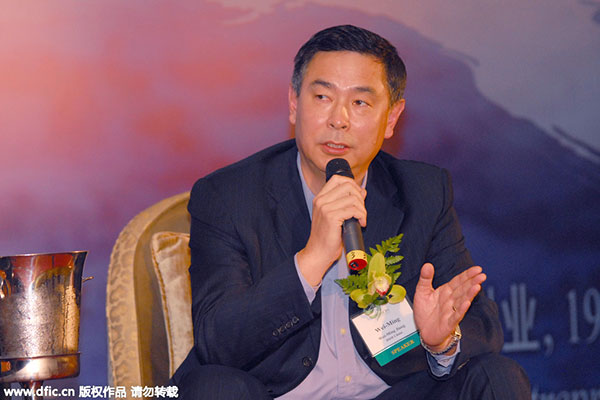 Jiang Weiming, president of DSM China. [Photo/IC]
DSM China president has big ambitions for the successful company and its talented team of employees in a changing marketplace
Jiang Weiming, president of DSM China, has had a rough night after being stranded at Beijing Capital International Airport due to bad weather.
The 59-year-old was on his way back to Shanghai from the Global CEO Council Summit, which was attended by "the country's chief executive officer", Premier Li Keqiang, among others, in the Chinese capital.
Once back in the office, he briefed his colleagues about the trip, which he made one day earlier. "The summit raised some key issues," he said.
Jiang heads the China operation of the life science and material science company DSM, which has a 113-year history and is based in the Netherlands. This multinational giant specializes in food and dietary supplements, alternative energy, chemical products for paints and bio-based materials. Here Jiang talks about the company's plans in China:
What message did you come back with from the summit regarding the "Made in China 2025" strategy?
China's manufacturing industry is facing overcapacity in several sectors, but there is huge room for future growth in high-end manufacturing. As Premier Li said, there is sure to be growth as long as China heads in the right direction. Even an annual GDP growth rate of 7 percent is feasible.
This was a very important message for the 14 companies at the summit as all of them see China as central to their future development. But the question right now is how to attain 7 percent growth. Exploiting natural resources, and low-cost manufacturing are obsolete.
The Chinese Academy of Social Sciences has made it clear that the nation's high-end manufacturing sector is at least 50 years behind those in developed countries such as Germany, the United States and Japan.
But now is the time for the country to develop its own brands through high-end manufacturing, as the old model of depending on government investment is not sustainable.
When we talk about China's manufacturing industry, we used to define it as "cheap products with acceptable quality". But that time has gone. We now have to move on and create our own products, technologies and global brands. This is probably why the government is encouraging entrepreneurship and innovation in the private sector.