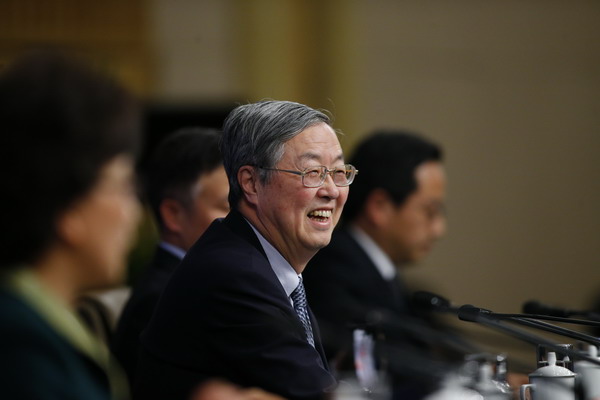 Zhou Xiaochuan, governor of People's Bank of China, smiles while taking questions from journalists at home and abroad during an ongoing press conference on March 12, 2015. [Photo/Xinhua]
BEIJING - China will continue to implement a prudent monetary policy and at the same time guard against financial risks, central bank governor reiterated Thursday.
"We should continuously improve the monetary macro-control framework, carry out prudent monetary policy and promote sustained and healthy economic growth," said Zhou Xiaochuan, governor of the People's Bank of China (PBOC), at a seminar.
Meanwhile, he urged the central bank to "hold fast to the bottom line that no systemic or regional financial risks should occur."
The words came as China's economy showed signs of stabilizing while the country's stock market spiraled downward.
The manufacturing purchasing managers' index (PMI), a key measure of factory activity in China, posted 50.2 in June, unchanged from May and in expansion territory for a fourth month in a row, according to official data published Wednesday.
Meanwhile, HSBC's version of manufacturing PMI, which is more focused on small- and medium-sized enterprises, posted 49.4 in June, up from 49.2 in May.
The central bank has cut interest rates for four times since November 2014 to bolster the real economy, the latest round announced over the weekend.
Despite liquidity-easing measures, China's stock market has tumbled in the past few weeks, with the benchmark Shanghai Composite Index plunging 24.29 percent from June 15 to Thursday.