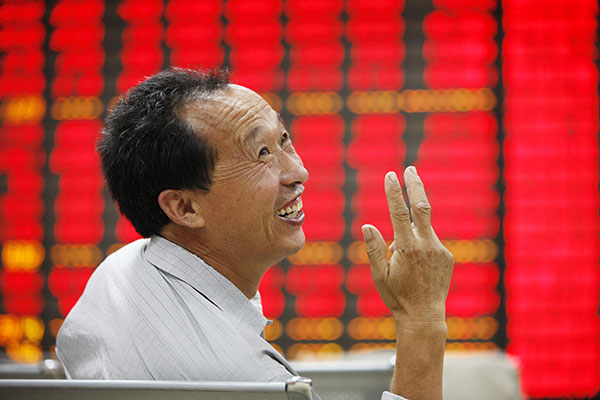 Chinese shares bounced back from early morning losses and closed sharply higher on Tuesday following a nightmarish two weeks. [Photo/China Daily] 
After a two-week tumble, China stocks surged on Tuesday as a series of government measures bolstered investor confidence.
The CSI 300 Index, which monitors share prices of the largest companies listed in Shanghai and Shenzhen, jumped by 6.7 percent to 4,473.00 points, while the Shanghai Composite Index gained 5.6 percent to 4,277.22 points, the highest daily gain since 2009. The Chinese A-share market has fallen by about 20 percent from its peak in mid-June.
A series of measures to maintain market confidence have been introduced since Friday, including draft rules to allow pension funds to buy stocks, funds and equity-backed pension products.
That could channel more than 1.5 trillion yuan ($242 billion) into equity-backed investments, including about 15 billion yuan directly into the A-share market, Shanghai Securities News reported.
Pension funds may not be allowed to buy stocks before the end of this year, according to the draft rules, but investor confidence has been bolstered by the news, pushing up sentiments in the A-share market, researchers said.
"Although the pension funds may not help the A-share market in the short term, the draft measure, along with the recent cuts in the reserve requirement ratio and interest rates, show intentions to stabilize market incentives," a research report by Haitong Securities said.
The country's fund association said the falling prices presented valuable buying opportunities and it urged hedge fund managers to make rational investment decisions.
"Confidence is more important than gold," the Asset Management Association of China said on Tuesday. "Sunshine always follows rainy days," it added.
Brokerage firm Guotai Junan Securities said it would lower margin requirements for certain blue chips to lever-age investment values.
Leading asset managers echoed the sentiments to convince investors that the bull market was not yet over.
Managers of private equity funds also stated that they believe the market will continue to be bullish.
"From a mid-to long-term perspective, the foundations of the bull market have not been shaken. Instead, they have been consolidated amid corrections, and the market will be bullish in a more stable and lasting manner. We believe it is a rational decision and good timing for value investing," said Wang Yawei, president of Shenzhen Qianhe Capital Management.
Technology companies and brokerage stocks rallied on Tuesday, with an average rise of the sectors reaching about 8 percent