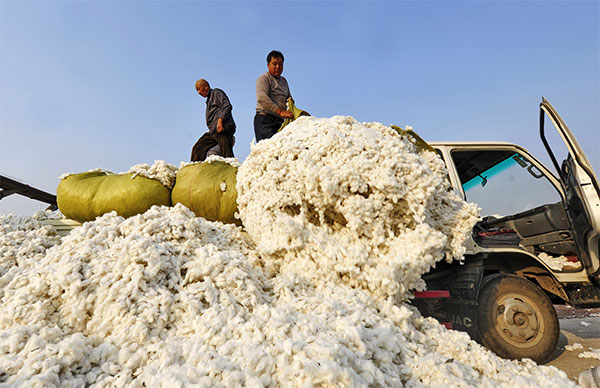 Workers sort procured cotton in Wuqiao county, Hebei province. [Photo/China Daily]
China will auction an initial 1 million metric tons of cotton from its bulging State stockpiles over the next two months and will also consider purchasing when the harvest starts later this year, the country's top economic planner said on Tuesday.
While the State sale will add to local cotton supplies, purchases during the harvest in September will keep a floor under domestic prices, helping the world's top consumer of the fiber gradually reduce stocks without depressing the market.
The aim is "to release and then buy in, sell out more and buy in less, in order to use up State reserve stocks", the National Development and Reform Commission said.
Traders said it was unlikely the sale would hurt domestic cotton futures, currently below 13,000 yuan ($2,094), as the prices had already factored in the auctions and dropped earlier this month after China first said it was planning sales.
Over July and August, China will auction 330,000 tons of domestic cotton from the 2011 crop with a floor price of 13,200 yuan per ton, 470,000 tons of the 2012 crop benchmarked at 14,200 yuan, and 200,000 tons of imported 2012 crop cotton with a 15,500 yuan floor price, the NDRC added.
No further details were available on the quality of the cotton to be auctioned and discounts-information that will be key to mills' decision on whether to buy or not.
"If they give a discount of 1,000 yuan per ton, that would be a good deal," said a trade source, who did not want to be identified because of rules on talking to media.
The source, who expects about one-third of the 1 million tons to be sold, said much of the surplus stock still available in the market was of "lousy quality".
Good quality imported fiber will likely be in demand with little import quota available in the market.
The NDRC said it will consider purchasing cotton when new supply arrives depending on the sale of its stocks and the market situation after the auctions, adding that it would buy no more than 40 percent of the volume sold in the upcoming auctions.