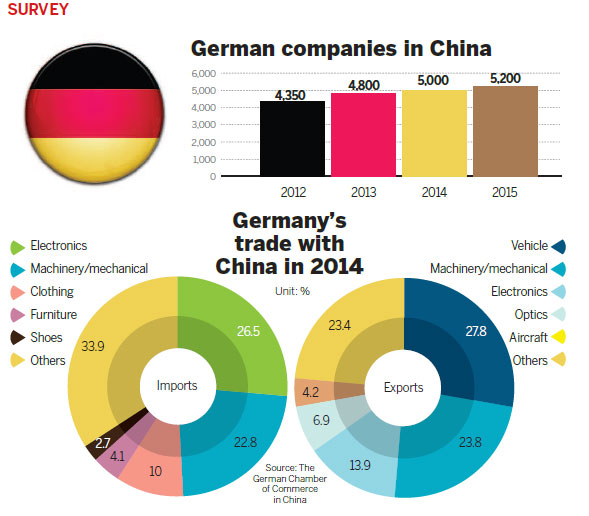 German companies are looking to increase their investments in China's modern manufacturing sector as the country transitions to a more moderate phase of growth, the German Chamber of Commerce in China said on Tuesday.
Sixty-five percent of German companies are planning new investment activities in China's automotive, machinery and chemicals sectors, according to the Business Confidence Survey 2015, conducted by the chamber between May 11 and June 12.
The survey interviewed 439 companies on issues related to business outlook, investment climate and market conditions.
Lothar Herrmann, chairman of the northern division of the chamber, said this indicates that German companies are eager to strengthen their position in modern technology-driven manufacturing as China undergoes an industrial upgrading.
"Similarly, more than half of German companies which engage in global research and development, engage in such activities at their locations in China," said Herrmann.
"They are more reliant on skill-based sectors rather than low-wage and low-skill industries as China continues to modernize its economic structure."
Founded in 1999, the chamber has more than 2,600 members throughout the Chinese mainland.
After a strong performance in 2014-despite the fact that growth rates had already been adjusted to lower levels-China's continuous economic slowdown in the first half of this year has led German companies to lower their business outlook for the full year.
However, more than half of the companies still expect to achieve their business targets this year. Most German businesses continue to enjoy healthy growth in turnover and profits, indicating that rather than experiencing a sharp decline, they are easing into lower growth levels.
Alexandra Voss, a member of the chamber's all-China board, said while investment activity by German companies at their current locations has fallen slightly, the share of companies planning to invest in new locations in China has remained stable compared to previous years and there is no indication that investment is being relocated to other countries.
The survey shows that the vast majority of investment continues to be concentrated in China's three main economic centers. Nearly 90 percent of companies are located around Shanghai and the Yangtze River Delta; Beijing and the Bohai Rim; and Guangzhou, Shenzhen and the Pearl River Delta.
German investment in China amounted to $710 million in the first quarter of the year, an increase of 21 percent compared to the same period in 2014. Germany has consistently been among China's top 10 foreign investors, with direct investment flows nearly doubling from its value in 2010 to $2.1 billion in both 2013 and 2014.
Voss said a shortage of skilled employees, rising labor costs and retaining qualified staff are the top three challenges for German firms. Finding qualified staff is the biggest challenge that German companies face this year.