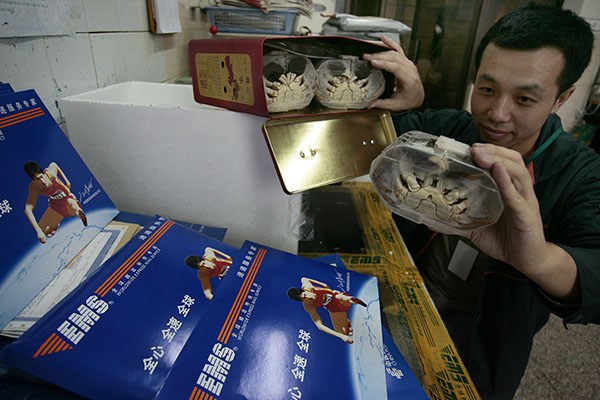 A man shows live crab parcels at an express delivery company. The country's e-commerce market of fresh produce doubled to 26 billion yuan ($4.2 billion) during 2013-14.[Photo provided to China Daily]
Zhang Xiaoying, a Beijing housewife, was amazed when a courier knocked on her door and delivered a package of prime Australian beef just 10 hours after she had ordered it online.
"It was still frozen when it arrived," Zhang, 34, said, adding that the beef was shipped from a warehouse in a Beijing suburb. "The whole process only took a simple click."
Her daughter loves nothing better than eating beef and usually Zhang gets up at 6:30 am to buy the freshest cuts at a supermarket near her neighborhood in Haidian district.
"The beef online is 69 yuan ($11) per kilogram, higher than the average 50 yuan in supermarkets," she said. "But it is from Australia and tastes better than local products."
Zhang is not alone in surfing the Internet for tasty brands. A growing number of Chinese consumers are switching to online platforms for fresh and high-quality food.
Last year, the e-commerce market of fresh produce doubled to 26 billion yuan ($4.2 billion) from 2013. It is expected to hit 91.1 billion yuan next year, according to a report by Shenyin & Wanguo Securities Co.
To tap into this booming sector, Internet companies such as Alibaba Group Holding Ltd and the e-commerce firm JD.com Inc are launching online "supermarket sites". Logistics companies are also gearing up for new opportunities.
Sfbest.com is an online shopping platform owned by SF Express, one of the largest couriers in China, and it promises to deliver fresh food within 24 hours.
"Compared with apparel and home appliances industries, which are overcrowded with competitors, fresh farm produce and seafood boast far higher profit margins," said Wang Xiaoxing, an e-commerce analyst at the Beijing-based Internet consultancy Analysys International.
Industry insiders are predicting that seafood vendors could make 50 cents on every yuan for their products, compared to 20 cents for fruit and meat sellers. Those figures dwarf the average five to 10 percent profit margins on clothing and home appliances sales.
Still, turning those predicted profits into hard cash will not be easy as most of the online retailers are in the red.
Li Changming, an analyst at China Retail Research Center, pointed out that among the 3,000 online platforms which specialize in selling fresh food, 99 percent of them are losing money.
One area that needs to expand is the logistic-side of the business-transporting perishable food products at low temperatures to keep them fresh.
Xu Yong, chief consultant for the express and logistics website cecss.com, echoed that view when he underlined the challenges ahead.
"A cold chain logistics system is essential to reduce perishable food waste," Xu said. "But most market players don't have that system in place yet, which limits the growth of many online platforms.
"Even Alibaba chiefly relies on third-party logistic service providers to deliver its fresh produce. And most farm food sellers on its platforms have to tackle logistics complexities themselves, mainly by cooperating with professional express firms," Xu added.
This, in turn, is driving up operating costs and squeezing profit. Xu said the price of low temperature delivery is three to eight times that of ordinary package services. And the cost of cold train logistic services accounted for 25 to 40 percent of total sales of fresh produce in 2013, according to a report by Shenyin & Wanguo Securities.
"As more players enter the low temperature logistics sector, economy of scale will help reduce the cost," Xu said, "When cold chain delivery becomes affordable, the market for fresh produce will really take off."
Ma Si contributed to this story.