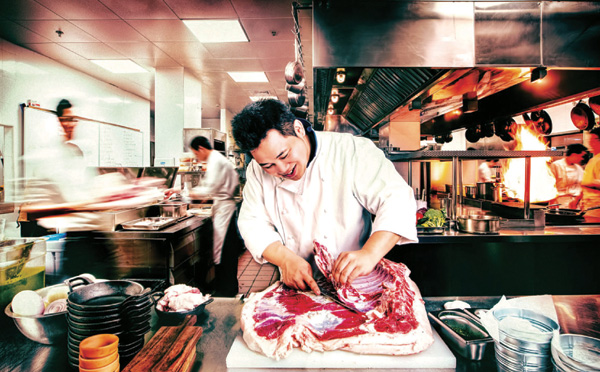 Austin Hu from Shanghai's Madison restaurant made his reputation by using locally sourced ingredients for Western-style cuisine. [Photo/China Daily]
Despite there being over 400 branches of KFC and McDonald's in Shanghai, higher-quality American food is not as prevalent or popular here as French or Italian cuisine.
Of the 25 or so big restaurants that have either opened or are due to open in the city this spring, none specialize in American staples like cheeseburgers, French fries or apple pie. But there are some creative new offshoots.
Pop at Three on the Bund bills itself as the "first and only American Brasserie in town". It opened earlier this year and has a decidedly French inflection.
"I don't see why a French chef cannot make American cuisine, just as downstairs, there is an American chef running Jean-Georges," said David Chauveau, Pop's executive chef.
Chauveau, who hails from western France's Montrevault, was referring to the eponymous eatery run by Michelin-starred French chef Jean-Georges Vongerichten, which is housed in the same building.
"French cuisine dominates the city, together with Italian cuisine, only because French food is for celebration," added Chauveau, who spent over five years with Sir Elly at the Peninsula in Shanghai.
Pop is based on the premise that diners in the city increasingly want refined food in a non-fine-dining environment. As an American brasserie, it serves "a melting pot of cuisines with a casual style", said the chef.
It sits at the top of a century old building overlooking the Huangpu River and offers premium burgers made from Wagyu beef, among other treats. Locally based "foodies" apparently can't get enough of it.
Austin Hu, the American chef who started one of the first restaurants offering American cuisine in Shanghai, demonstrates a similar passion with his dishes.
After graduating from the French Culinary Institute in New York City and working at restaurants like Gramercy Tavern, the 32-year-old decided to open the restaurant Madison promoting "new American cuisine" in Shanghai in 2010.
He defined this as dishes that taste good and which are made from locally sourced ingredients.
"When we first opened, no one was 'foolish' enough to do that," said Hu, who is ethnic-Chinese. He was born in Wisconsin.
Five years later, he has brought local specialties like sanhuangji (three-yellow-chicken) back to the dinner table and helped to re-popularize the idea of Sunday brunch. Sanhuangji is made from a local breed of chicken with a yellow beak, feathers and claws.