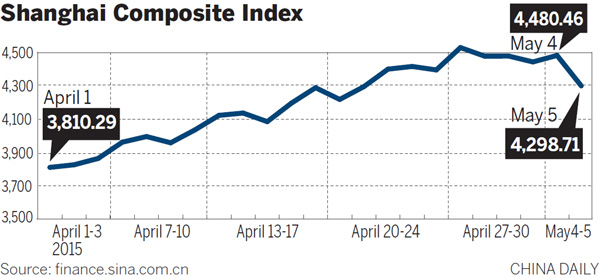 Chinese stocks slumped by more than 4 percent on Tuesday, the biggest daily drop in three months, amid speculation that the top securities regulator may take measures to control market bubbles.
The benchmark Shanghai Composite Index fell sharply to 4,298.71 points at the close, a drop of 4.06 percent.
More than 1,900 of the A-shares listed in Shanghai and Shenzhen, or 80 percent of the total, suffered declines, led by the telecommunication and property sectors.
The Growth Enterprises Market, or the ChiNext, plunged 2.8 percent. The CSI 300 Index fell 3.5 percent, while the Hang Seng Index slid 1.7 percent.
Li Daxiao, chief economist at Yingda Securities, said the recent bullish spell may have ended when the benchmark index hit a seven-year peak of 4,572.39 on April 28, as the price-earnings ratios of many listed companies, especially those in the growth enterprise market, were irrationally high. But the drop may not cause panic in the market, he added.
People's Daily published an article on Monday that warned investors that "the market is not a place to easily make money, even in the bullish trend".
Data from China Securities Depository and Clearing showed that more than 1 million new stock accounts have been opened every week since late March.
In the week beginning April 20, the number of new A-share accounts hit a historical high of 4.13 million, or 26 percent more than the previous week's total. A research note from Changjiang Securities said the country may increase the stamp tax on stock trading to boost fiscal revenues.
Meanwhile, 25 companies are scheduled to sell initial public offering shares from Tuesday through May 11. This might freeze 2.34 trillion yuan ($377 billion), as investors are required to hold IPO shares for a certain period of time.
Zhang Yidong, an analyst at Industrial Securities, said the government may "curb the bubbles when the market becomes irrationally excited on too much leverage".
"If the mad bullish market continues, in contrast to the sluggish real economy, deleverage measures may be seen in the second half of this month," said Zhang.