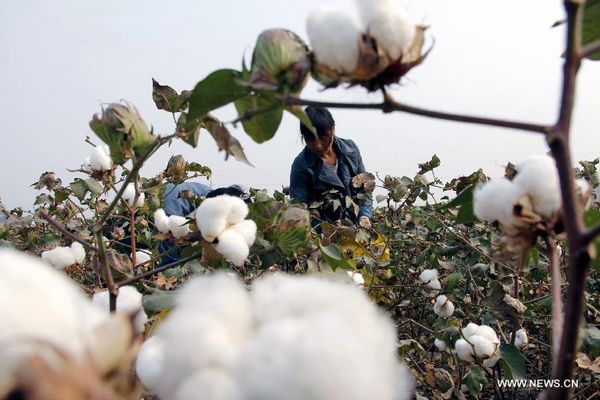 Farmers pick cotton at Zhangzhuang village in Neihuang county, central China's Henan province, Oct 9, 2013. [Photo/Xinhua]
Cotton imports slid 44.9 percent year-on-year to 161,200 metric tons in January, highlighting the challenges that domestic textile manufacturers face in a weak world market, said trade experts.
He Jingtong, a professor of international trade at Nankai University in Tianjin, said that slack global market conditions have hit China's labor-intensive industries, especially garment and textile production, as well as shoes, toys and furniture.
All these exports slumped in January, underscoring the nation's fast-fading advantage in some of the sectors it once dominated.
Exports of garment and yarn products fell 12.4 and 7.6 percent to 96.86 billion yuan ($15.5 billion) and 59.47 billion yuan, respectively. Shoe exports declined 10.8 percent to 34.88 billion yuan, according to the General Administration of Customs.
Even though the US economy stabilized, it could not offset "lethargic demand from the European Union, Japan and many emerging economies", said He.
Orders for garment and yarn products from developed markets have been dwindling since mid-2011. Though many Chinese manufacturers are now less dependent on developed markets, exports are still the mainstay of their businesses, which are dominated by original equipment manufacturing.
Ding Lixin, a researcher at the Chinese Academy of Agricultural Sciences in Beijing, said that another factor behind falling cotton imports was the country's huge inventories.
"Fast-growing domestic cotton output and the policy of paying a floor price for certain agricultural products have forced the government to spend more on storing domestic cotton," Ding said.
To reduce that burden, the government has pushed domestic textile enterprises to use more homegrown cotton in recent years.
Cotton reserves rose to 11 million tons last year, half of the global total.
China pledged in September that the nation will not increase its cotton import quota this year beyond 894,000 tons.
Unlike China, prices of farm products in the United States, the EU and Japan are more market-driven, partly because of supply-demand relationships and the function of commodity markets such as the Chicago Board of Trade and Tokyo Commodity Exchange Inc.
"China still relies on stockpiling and floor purchase prices that are supported by government subsidies to regulate prices," Ding said. "But the nation's minimum cotton purchase prices have remained above world levels in recent years, which prompted more imports from the US, India and Brazil in 2014."
The domestic cotton price is about 13,955 yuan a ton, while the landed price for cotton of a similar quality from India is 11,460 yuan, data from the Zhengzhou Commodity Exchange show.
Chinese garment or yarn factories are thus inclined to buy cheaper foreign cotton to offset the rising costs of labor, energy and logistics.
Zhao Ying, a researcher at the institute of industrial economics of the Chinese Academy of Social Sciences, the chief government think tank, said that growing uncertainties in the world market will prompt garment and yarn producers in China to move up the value chain.
They will have to offer high-end products and devise new strategies to expand their markets, and small, obsolete factories will be weeded out through competition over the next five years.