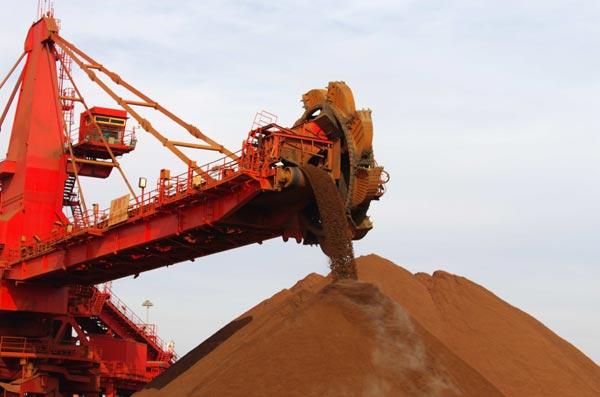 Imported iron ore being unloaded at Rizhao port in Shandong province. A Chinese private company plans to acquire an iron ore mine in Greenland, the first to explore mineral resources in the Arctic region. [Photo/China Daily]
General Nice deal to be first by an Asian company in the Arctic region 
General Nice Group, a Chinese private trading company, is taking over a large iron ore mine in Greenland, in what will be the first project of its kind by an Asian country in the Arctic region.
A senior adviser to General Nice, who declined to be named, told China Daily on Monday that the project is at the very initial stage and nothing has been nailed yet, including the deal size, which was reported to be around $2 billion.
The iron ore mine, called Isua, was owned by London Mining Plc, which went bankrupt after iron ore prices plunged last year. The Chinese company will own the exploration rights of Isua as it has acquired London Mining's subsidiary in Greenland, according to the Greenland government.
Industry experts, however, do not anticipate much gain for the Chinese company from the project due to high costs, labor shortages and environmental issues.
Chang Xingguo, deputy director and a senior analyst of the international affairs and mining finance department with the China Mining Association, said Chinese companies have been interested in the Isua project since 2009 when iron ore prices were high and many domestic miners were seeking overseas acquisition opportunities.
"However, due to the high operational costs and strict environmental regulations in Greenland, Chinese companies have not finalized any agreement yet," he said. "With global iron ore prices starting to decline in 2014, interest in the Isua project from Chinese buyers has also started to wane."
The Isua mine site is around 150 kilometers northeast of Nuuk, the capital of Greenland. The ore contains 70 percent iron, and hence will require minimal processing before being shipped.
"Though the quality of the iron ore is high, the project still doesn't have good profit potential," Chang said.
Wei Zengming, an industrial analyst at Mysteel, a Shanghai-based commodities consultancy, said though the deal is not profitable from a business perspective, it may be a good option to test Chinese companies' mining ability in the Arctic region where advanced technologies are required for the extreme weather condition and temperature.