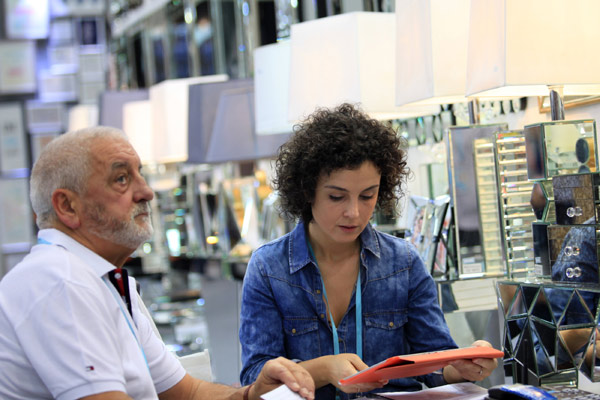 Foreign merchants at the autumn session of the Canton Fair, which closed on Nov 4, 2014 in Guangzhou, Guangdong province. Deals completed during the session was $29.16 billion, down more than 6 percent from the spring session. [Qiu Quanliin / China Daily]
China's near-term trade outlook remains grim, if results from the just-ended fall session of the famed Canton Fair are any guide.
Transactions and the number of buyers at the country's largest trade event declined amid weak demand from traditional and emerging markets, organizers said.
Export transactions at the 116th China Import and Export Fair, which is seen as a barometer of China's trade trends, slid 6.1 percent from the spring session to 179.2 billion yuan ($29.16 billion), according to Liu Jianjun, the fair's spokesman.
It was the first time since 2010 that transactions at a single session totaled less than $30 billion, according to sources in the fair.
The event was attended by 186,104 international buyers from 211 countries and regions, down 1.1 percent from the spring session, according to Liu.
"Traditional markets are still on a rocky road to recovery in terms of demand for Chinese goods, and demand in the emerging markets is weak," said Liu.
The twice-a-year fair concluded on Tuesday in Guangzhou, the capital of Guangdong province.
Transactions with buyers from traditional markets (including the European Union, Japan and the United States) and emerging markets (such as Brazil, Russia, South Africa, India and the Middle East) fell by 4 to 19 percent.
"Chinese exporters need to boost their competitiveness amid weak external demand," Liu said.
The outbreak of Ebola cut the number of buyers from Africa by more than 20 percent from the spring session, according to Liu.
Liu said Chinese exporters must focus more on building their brands, boosting quality, improving technology and offering better service to increase competitiveness in the international market.
"Domestic companies should make more effort to develop innovative, technology-driven products," Liu said.
According to Liu, Canton Fair transactions for companies producing items bearing recognized brands accounted for about 40 percent of the total, which indicated that the organizers' effort to promote such products was more effective.
A number of exporters in the Pearl River Delta, a major manufacturing and trade hub, plan to open facilities overseas, especially in Southeast Asia, to better tap these booming markets.
According to the fair's organizers, only transactions with members of the Association of Southeast Asian Nations, South Korea and Hong Kong increased at this session.
Guangdong Wonderful Ceramics Co Ltd, based in Dongguan, drew up a plan to open factories in Indonesia after seeing increased business in the Southeast Asian market.
"We will prioritize emerging markets, where there is demand for our products," said He Jiye, deputy Party chief of the company.
Oleno Underwear Group Co Ltd, based in Foshan along with many other underwear producers, plans to open a factory in Southeast Asia, according to President He Bingxiang.
"As business slowed in the traditional markets, we have enjoyed rich rewards from a switch to emerging markets," He said.