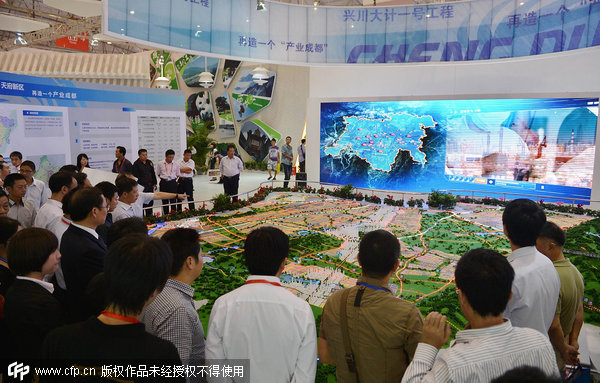 The planning model of Tianfu new area displays at an Expo in Chengdu city, Southwest China's Sichuan province, Sept 26, 2012. [Photo/CFP]
The newly approved national-level Tianfu new area in Sichuan province is expected to boost economic growth in the western region and strengthen reform and opening-up in inland China, experts said.
The State Council approved the new area as a national-level development zone on Tuesday. It is the fifth national-level development zone in western China and the 11th in the country.
A statement from the State Council, China's cabinet, said the Tianfu new area will explore new ways of development and opening-up in the western regions, enhance economic growth in the inland regions and push forward economic restructuring.
"Setting up a national-level development zone means adding a new growth pole to the country," said Deng Ling, a professor of economics at Sichuan University.
"The Tianfu new area will mainly develop high-tech industries, which contribute to China's efforts to adjust its industrial structure."
The development zone stretches from the southern part of Chengdu to neighboring Meishan and Ziyang. It covers 1,578 square kilometers, 82 percent of which are in Chengdu.
"Preferential policies for a national-level development zone will lead to a surge of investment and projects," Deng said.
The zone will encompass six key industries: information technology, vehicle production, clean energy, new materials, bio-pharmaceuticals and finance, according to the Sichuan government.
Sheng Yi, deputy director of the Sichuan Academy of Social Sciences, said Tianfu's location at the intersection of the Silk Road Economic Belt and the Yangtze River Economic Zone, and in between the well-developed European economies and the Asia-Pacific economic circle, gives it the opportunity to develop into a key hub of industries, transportation, commerce and culture.
Yi Xianrong, an economist, said that the Tianfu new area is blessed with rich natural resources, but its markets are far less developed than the coastal areas.
He advised the local government to harness resources in and around the province in a market-oriented manner and promote the urbanization of the new area.
Sheng said China's economic slowdown may affect the development of the Tianfu new area, but the impact will be quite limited because the industries in the new area have huge market demand that will lead economic development.
Yan Xing, deputy director of the Chengdu Academy of Social Sciences, agreed.
"As global demand continues to shrink, competition among multinational companies is likely to center on regional markets," Yan said.
Yan added that Chengdu is one of the best choices for multinational companies wanting to explore China's western market, as the city is at the center of the region's major cities, such as Chongqing, Xi'an (capital of Shaanxi province), Kunming (capital of Yunnan province) and Guiyang (capital of Guizhou province).