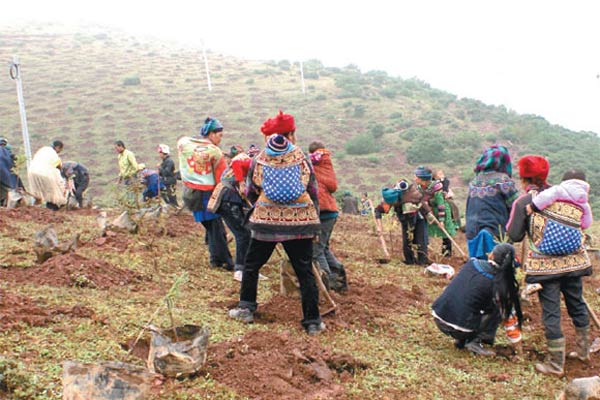 Farmers plant trees in Liangshan Yi autonomous prefecture, Sichuan province, where the Swiss pharmaceutical company Novartis International AG has implemented a carbon, community and biodiversity project since December 2010.   Provided to China Daily
Markus Lehni travels at least once a year from Switzerland to Southwest China's Sichuan province to check on the millions of trees his company planted in remote mountain regions as part of reforestation projects that started four years ago.
As the global head of environment and energy for Swiss pharmaceutical maker Novartis International AG, Lehni believes that addressing climate change requires sustained corporate action.
The company started the Sichuan project in 2010, its third carbon-offset project worldwide. Two similar projects are located in the South American country of Argentina and in the Republic of Mali in West Africa.
Lehni said that offsetting greenhouse gas emissions is part of Novartis' long-term campaign to reduce its carbon footprint globally. Novartis set an absolute goal of cutting greenhouse gas emissions by 15 percent by 2015 and 20 percent by 2020, based on 2008 levels.
"Buying carbon credits might be the cheapest way of solving this problem, but we want a sustainable project that could bring more benefits to the community," said Lehni.
"Switzerland is renowned for its mountains, so we know the importance of having mountainsides covered with forest vegetation. During my first field trip to Sichuan, I noticed lots of trees had been cut down and I thought, 'If the trees could grow again, it will protect the land from soil erosion, landslides and flooding,'" he said.
The Swiss company is picking up the cost of planting 10 million trees over four years, covering 4,200 hectares of mountains in the province. They selected species suitable for local conditions, such as spruce, fir, Chinese white pine and alder.
It is reportedly the second-largest reforestation project in China, following a 6,000-hectare World Bank project in Guangxi.
The project will provide employment and income to local residents, said Helen Chui, president of Novartis China.
"The artemisinin therapy (used to treat malaria) was initially developed by Chinese scientists, and Novartis has worked with Chinese partners and put it into production. Sichuan has been an important source for the raw material as well as a familiar place to Novartis," said Chui.
Novartis' malarial drug Coartem is extracted from a traditional Chinese herb. The Swiss company provides Coartem free to the World Health Organization, and the organization dispenses the drugs to patients in Africa.
The forestation project is being jointly carried out by the Sichuan Forestry Administration, US environmental organization The Nature Conservancy, the Daduhe Forestation Bureau and Beijing's Shan Shui Conservation Center. It has been registered as a Clean Development Mechanism program under the United Nations Framework Convention for Climate Change.
Zhang Xiaoquan, senior scientist for climate change with The Nature Conservancy's China Program, said it is hard to explain the concept of carbon sequestration to villagers, but they soon realized that they could benefit from selling fresh air.
Another primary purpose of the project is to provide better habitat for the giant panda.
The project is located in the southernmost part of the species' natural habitat, an area that used to be covered by forests of spruce and fir, with the arrow bamboo growing under the trees providing tasty food for the pandas.
"The trees were cut down to serve the economic and infrastructure development in past decades, and as a result, the bamboo disappeared as well as the giant panda," Zhang said.
Reforestation projects not only contribute to carbon sequestration and mitigate climate change, they also assist in biodiversity conservation, he said.