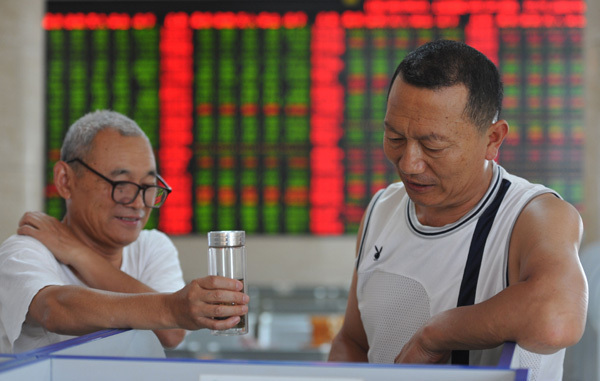 Two investors chat at a securities brokerage in Fuyang, Anhui province, on Aug 21. [Provided to China Daily]
Talk of possible US interest rate rise does little to dampen optimism
Investors in Hong Kong and the Chinese mainland are taking profits after the recent rally, although they said they have remained unfazed by talk of an interest rate rise in the United States.
The Jackson Hole Symposium takes place on Friday and it could indicate firmer moves by the US Federal Reserve to phase out the quantitative easing program.
An interest rate rise, pushing up the value of the dollar, could trigger a reverse flow of foreign capital that was seen as one of the major driving forces behind the latest rallies in the Hong Kong and mainland stock markets. But many stock analysts said other economic factors have remained strong enough to keep the bull running.
"We cashed out all the A shares by this morning," said Xin Yu, president of the Guangzhou-based Zequan Investment, adding warming economic data and easing policies in the past two months have boosted investor confidence and triggered the rally.
"But we believe there is a tendency of over-optimism among investors and we do not see a sustainable catalyst to support more growth at this stage," he said.
The benchmark Shanghai Composite Index retreated 0.44 percent to 2,230.46 on Thursday at the close, with turnover expanding to 140.9 billion yuan ($22.7 billion) from 139.6 billion yuan on Wednesday.
The much-awaited Hong Kong-Shanghai Stock Connect program due in October has largely boosted investors' confidence that more liquidity will lift the undervalued shares in both the mainland and Hong Kong markets. The Shanghai Composite Index rose to eight-month highs this week, and Hong Kong's Hang Seng Index also jumped to more than six-year highs.
Xin said the inflow of foreign capital has been an important driving force. Exchange-traded funds under an investment scheme in the Chinese currency recorded net inflows of 8.2 billion yuan in July, the highest since December 2012 and nearly doubling from June, according to Morningstar data.
Some investors are inclined to a pullback before the Fed's chairwoman, Janet Yellen, gives a speech at the central bank's annual conference in Jackson Hole on Friday.
"The annual address is often used by the leaders of the central bank to lay out major policy directions. It is expected to give clues of future policy directions, rather than detailed policies," said Pu Yonghao, regional chief investment officer of Northern APAC, UBS Wealth Management.
Some Fed policymakers think the US economy is improving enough that the bank should start considering raising short-term interest rates.
Pu said he does not expect there will be a dramatic signal or big surprise regarding a rate increase, based on the Fed's latest evaluation of the US labor market, which is key to their policymaking. It is more likely that the Fed will give clues for the market to read and reposition.
Chris Lai, equity research associate with Bank of America Merrill Lynch, said: "The house view insists that there won't be an interest rate rise before the third quarter of 2015."
Stock markets in the mainland and Hong Kong are more engaged in positive messages now, including macro-stimulus policies, the Hong Kong - Shanghai Stock Connect program and the mainland State-owned enterprise reform, Lai said.
"We are bullish about the market performance toward October. And overseas investors are having much stronger sentiment about the A and H shares nowadays, compared with March and April," he said.