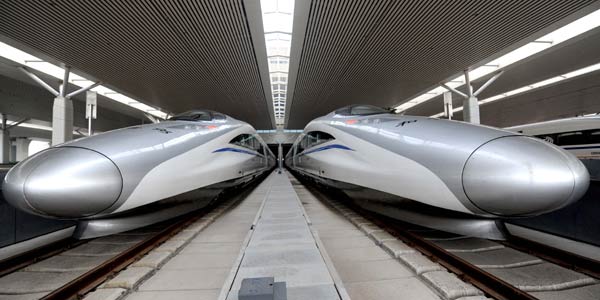 Two high-speed bullet trains sit in Zhengzhou Railway Station in Henan province on Tuesday. [Photo/Xinhua]
China's high-speed bullet trains now make up more than half of the country's railway services.
China Railway Corp, the State-owned rail operator, introduced a new service schedule on Tuesday to meet the booming demand from the public.
The new plan, marking the most significant changes since 2007, puts the number of Chinese passenger trains in service at 4,894, of which 2,660 are CRH high-speed bullet trains running at speeds of more than 200 km per hour.
China has the longest high-speed railway network in the world, with more than 10,000 km in operation. It is also actively promoting Chinese high-speed railway technology to other countries, including Turkey, Thailand, and the United Kingdom.
Workers with the China Railway Corp's transportation bureau have replaced the old plan with the new one in their main servers, and local railway bureaus and stations will rearrange their services and personnel based on the new plan, said Zhu Jianping, deputy head of the bureau's dispatch department.
"The fact that China Railway Corp adjusts its operation plan every six months shows that the nation's rail network is expanding at an unprecedented speed," said Ji Jialun, a railway expert at Beijing Jiaotong University. "Compared with the past, now almost all of the major parts used on our bullet trains are developed and manufactured by Chinese engineers."
He said China has long commanded key technologies in the high-speed rail sector and can produce reliable parts as good as the imported ones.
However, other analysts also warned security must be a top priority.
"Railway operators and authorities must pay more attention to the operational safety as they continue boosting the rail network," said Xu Guangjian, deputy dean of the School of Public Administration and Policy at Renmin University of China.
"In the near future, a bullet train will travel from the ultracold northeastern provinces to eastern coastal regions that have warm and wet weather, which will pose a huge challenge to planning, maintenance and control personnel."