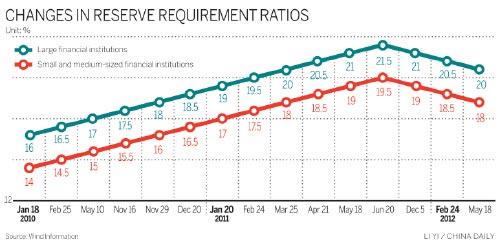 By extending the ratio cut to certain joint-equity banks, the PBOC is trying to promote economic restructuring and help agricultural businesses and smaller companies get bank loans more easily and cheaply, said Zhou Jingtong, a senior macroeconomic analyst at the Bank of China Ltd's Institute of International Finance.
The reduction, which covered the majority of city commercial banks and non-county level rural banks, would release about 60 billion yuan ($9.6 billion) to 70 billion yuan of liquidity into the money market, according to a report by China Minsheng Bank.
Now that some joint-equity banks are also included, the effect of the policy will be much greater, said Zhou.
"The central bank is taking small steps rather than using a large-scale stimulus to boost the economy for fear that excessively strong policies will exacerbate credit risks while the country's financial leverage is already far too high," said Zhou. "If the measures taken by the PBOC do not achieve expected results, it will launch more policies."
Xu Nuojin, deputy director of the statistics and analysis department of the PBOC, told a forum on Sunday that all sectors of the community should recognize that the Chinese economy is in "quasi-deflation" mode. A prudent monetary policy should focus on lowering funding costs in the long run and on cutting reserve requirements and interest rates modestly in the short term, said Xu.
He emphasized that growth will slow without sufficient investment and employment will be affected.
The latest Standard Chartered report on the Chinese economy found that the housing market deteriorated further in May. Fixed-asset investment growth dropped to a 17-month low of 9.6 percent year-on-year from 17.5 percent in the first four months.
Based on housing sales and credit growth in May, the China economists at Standard Chartered forecast in the report that actual activity growth is likely to slow further in the third quarter.
"Policy is already being loosened gradually, but more broad-based easing is still needed. Such measures could include reserve requirement ratio cuts, more stimulus to the housing market, more credit availability for local government investment vehicles and more fiscal action," the report said.