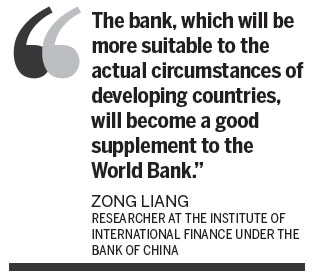 A five-country treaty to be signed to provide $50billion in initial capitablization for the new lender
A new development bank to be launched by five major emerging economies will help developing countries to effectively handle the challenges they face, financial experts said.
Leaders from Brazil, Russia, India, China and South Africa (BRICS) are expected to sign a treaty to create a new multilateral bank when they meet in the northern Brazilian city of Fortaleza in July, Reuters reported.
The new bank would look at the finances of sovereign borrowers and help cover growing demand for project financing without intervening in the nations' domestic policies. The idea is to provide them with loans at a lower cost than what they would individually get in markets, a senior Brazilian government official told Reuters.
"The bank, which will be more suitable to the actual circumstances of developing countries, will become a good supplement to the World Bank," said Zong Liang, researcher at the Institute of International Finance under the Bank of China.
He noted that the new bank may put sustainable investment into projects targeting countries' weaknesses, such as lagging infrastructure, unbalanced industries and pollution.
The five BRICS nations will invest a total of $50 billion, of which $10 billion will be in cash and $40 billion in guarantees, and likely will contribute an equal share of the funding. Start-up capital would double to $100 billion in five years, Reuters reported.
Although the bank was first proposed in 2012, its creation has been constantly delayed by the differing views of its founding members about the amount of start-up capital, share distribution and the location of its headquarters.
Some countries were worried that China would take a bigger stake in the bank if it put in more capital.
Zong said China will inevitably play an important role in the development bank because it has the most economic power out of the five countries. But he also urged the other members to put off their doubts and fears.
"No matter how much capital it will contribute to the bank, China will be a responsible member and found the bank together with other members based on win-win cooperation to promote the growth of emerging and developing economies rather than seeking its own interests," he said.
It also will set a good example for other developing countries to follow, he said.
"China has accumulated a lot of experience in developing infrastructure and grasping relevant technologies. These are very practical for developing countries and can be shared with them," he said.
Apart from deciding how much capital the bank will need, the BRICS also will select its headquarters from such options as Shanghai, Moscow, New Delhi and Johannesburg. In the end, the bank will await approval by the countries' legislatures and could begin lending within two years, Reuters reported.