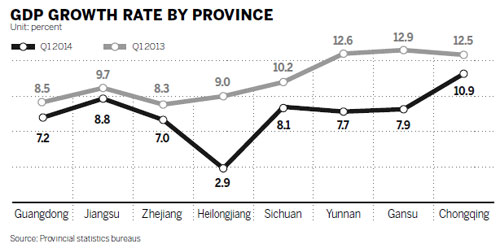 Li Yi / China Daily
Economic expansion of Western provinces outpaces coastal area
Economic growth in most parts of China slowed in the first quarter, with most inland regions slipping into the single-digit range.
As of Thursday, 26 provincial-level governments had released first-quarter GDP data, with 24 of those regions reporting a slowdown.
Growth in eastern regions generally slowed by 1 percentage point year-on-year, while in central and western regions growth generally dropped by more than 2 percentage points. The western regions continued to grow faster than their eastern counterparts.
Heilongjiang province in the northeast reported the largest deceleration. Its growth rate plunged from 9 percent a year earlier to 2.9 percent this past quarter - its slowest pace ever. The bleak situation in the province's petrol
eu
m, chemical and equipment manufacturing industries, which are its core sectors, hit the local economy hard. Industrial output expanded just 3.5 percent.
Hebei province's growth was the second-slowest at 4.2 percent, compared with 9.1 percent a year earlier. The drive to curb overcapacity in the steel, cement and glass industries dealt a heavy blow to the economy.
Hebei's steel sector produces almost as much as all of Europe, so any slowdown in the industry has strongly negative implications for the provincial economy.
In western China, Gansu province reported the largest slowdown in GDP as its investment-led growth ebbed. Growth slowed to 7.9 percent, down 5 percentage points from a year earlier.
Similar conditions prevailed in Yunnan, Ningxia and Sichuan.
The only bright spot was the independent municipality of Chongqing. With GDP growth of 10.9 percent, it led the nation. It was one of just three provincial-level governments to report double-digit growth (the other two were Guizhou province and the municipality of Tianjin).
Chongqing's growth was driven by exports, mainly of vehicles and electronic products. Even as national trade value dropped 3.7 percent in the first quarter, Chongqing's combined imports and exports posted an impressive 82.3 percent expansion.