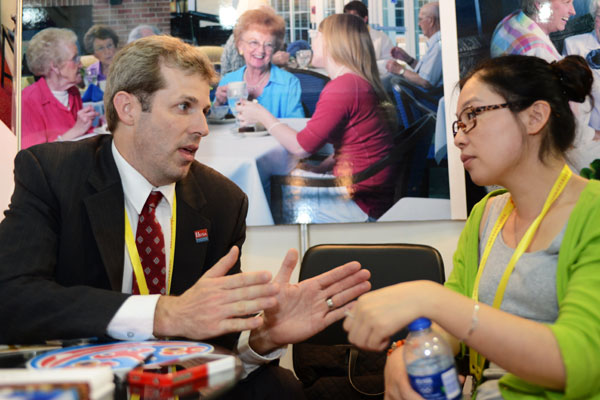 A businessman from the United States talks with a Chinese business partner at an investment fair in Xiamen, Fujian province. ZHANG GUOJUN/XINHUA
Companies changing strategy to cope with new investment environment
Slower Chinese growth will see US companies cut investment in the world's second-largest economy, the American Chamber of Commerce in China said on Tuesday.
"With slower growth, we see more challenges," AmCham China Chairman Gregory Gilligan told reporters in
Beijing
. "That is the reason some American companies are scaling back their investment plans."
China's economy grew by an annual 7.4 percent in the January-March period, the slowest in 18 months. US non-financial direct investment in China dropped 1.91 percent year-on-year to $1.04 billion in the same period, according to the Ministry of Commerce.
China is in a transition period, and American companies in the country are less profitable than before. Fewer plan big increases in investment while others plan none, according to AmCham China's Business Climate Survey in March.
"While slower growth and market access barriers were also the No 1 and No 2 drivers for lowered investment, there has been a very significant jump in both factors in this year's survey," Gilligan said. "Obviously, with slower growth in China, there is less need for investment. But also, as the overall economy slows, market access barriers and other constraints become a more prominent concern."
With slower growth, member companies perhaps have less need for investment based on the old economic model that relied more on such things as exports and infrastructure spending and are looking to increase investment in those areas where implementation can happen in the best possible way, Gilligan said.