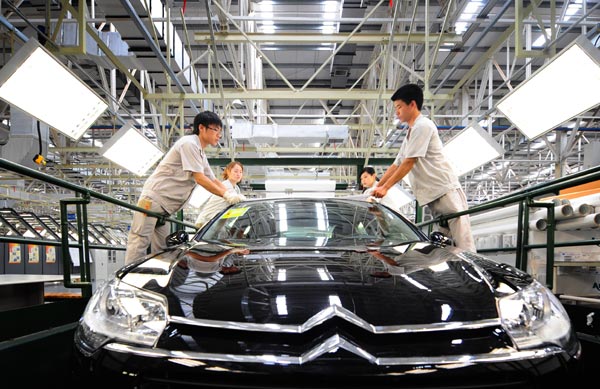 Workers fix protective film onto a car at Dongfeng Peugeot Citroen Automobile Co Ltd in Wuhan, Hubei province. Foreign direct investment in Central China surged 75 percent to $2.62 billion in the Jan-Feb period, the Ministry of Commerce said. Cheng Min / Xinhua
Recent economic weakness in China hasn't deterred foreign direct investment, with inflows maintaining robust growth in the first two months of this year, figures from the Ministry of Commerce indicated on Tuesday.
During January and February, FDI (excluding the financial sector) rose almost 10.5 percent year-on-year to $19.31 billion, the ministry said. In February alone, inbound FDI went up 4 percent to $8.55 billion.
Analysts said that global investors' confidence was strengthened by the nation's planned reforms and opening-up initiatives.
And although eastern regions continued to draw the lion's share of the money, inbound FDI to landlocked central and western provinces and regions expanded at a much faster pace.
"Despite sluggish global investment and problems in China's economic development, foreign investors remain confident in investment in China," Shen Danyang, a ministry spokesman, told reporters in Beijing.
Recent economic data have suggested weakened growth momentum in the world's second-largest economy. Louis Kuijs, chief economist in China at the Royal Bank of Scotland Plc, on Monday lowered his forecast for 2014 GDP growth to 7.7 percent from 8.2 percent originally.
Earlier this month, the government announced a 7.5 percent GDP growth target for this year. It also forecast that FDI inflows would rise 3.5 percent to $121.7 billion.