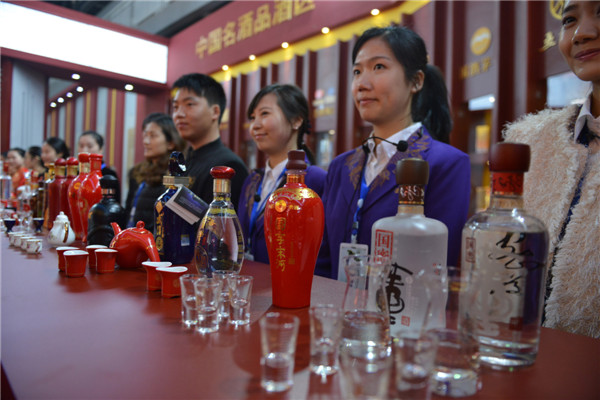 Different brands of baijiu are displayed at the China International Alcoholic Drinks Expo 2014 in Luzhou, Sichuan province, on March 23. Sales of expensive baijiu, which used to be a must for official dining, have been hit hard by a campaign urging officials to cut lavish spending. Provided to China Daily
Baijiu, China's native alcohol, was surpassed by wine and foreign alcoholic drinks for the first time at the country's most important alcohol exhibition, indicating a fallout of the government's tightening on extravagant spending and a challenging industrial environment.
At the China Food and Drinks Fair, which opened on Friday in Chengdu and which has been an indicator of the alcohol business in the country since 2009, baijiu took two pavilions compared with four last year, while wine and imported alcohol dealers expanded to three from one.
Last year, baijiu sales were 502 billion yuan ($81 billion) with a growth rate of 11.22 percent, 15.6 percentage points lower than that in 2012, according to the China Alcoholic Drinks Association. At the same time, profits dropped by almost 2 percent compared with the previous year.
Since President Xi Jinping and Premier Li Keqiang took office in 2013, the new leadership has launched a campaign to cut officials' lavish spending.
As a result, sales of expensive baijiu, which used to be a must at official banquets, have been significantly affected.
The Kweichou Moutai Group, whose Moutai brand was a favorite at official banquets, said on Tuesday that its profits in 2013 grew by 13.74 percent, compared with 51.86 percent in 2012.
The situation for Wuliangye Group, another top baijiu brand, is even worse. According to the company's preliminary results for last year, its net profits could fall by 18 percent year-on-year for 2013.
"The present downturn is a reasonable adjustment after the long-term high growth," said Ma Yong, secretary-general of the baijiu subcommittee of the China National Food Industry Association, adding that factors such as expanding production and a scandal over a chemical additive have also contributed to the tough situation in the industry.
In 2012, a baijiu company was reported as using excessive amounts of the controversial plasticizer DEHP, which can be harmful to human health. Although it turned out that DEHP is a popular and acceptable ingredient in baijiu and many other foods, it scared many Chinese consumers.
Ma said one of the major reasons for the downturn of the baijiu industry is its sharp rising price.
"The output of baijiu reached 12 million metric tons, a fourfold increase from 10 years ago, in accordance with the GDP growth rate," he said.
However, baijiu sales in 2013 were eight times those in 2003, while the profit kept an average annual growth rate of 37 percent.
Ma said the downturn was expected to take place in 2008, but the 4 trillion yuan fiscal stimulus package put forth by the Chinese government put the crisis off.
Song Shuyu, deputy secretary-general of the China Alcoholic Drinks Association, said the major task for the baijiu industry is to creatively promote the alcohol so as to get rid of the downturn.
Zong Qinghou, founder and chairman of Hangzhou Wahaha Group, who was once ranked by Forbes as the richest man on the Chinese mainland, said his group aims to make baijiu "one of the necessities of an enjoyable life".
Zong said he believed that baijiu, with a history stretching back thousands of years, has great development potential. "The market is going to return to prosperity again as long as the price drops to mass consumption level."
The beverage giant has become involved in the baijiu industry again despite the tough market environment. Last September, the group signed a 15 billion yuan investment agreement with the government of Renhuai, Guizhou province, where Moutai is made, to develop baijiu in the city.
Contact the writers at liyu@chinadaily.com.cn and pengchao@chinadaily.com.cn.