CNOOC Ltd's net profit fell 11.4 percent to 56.46 billion yuan ($9.11 billion) last year, even as output set records, the company said on Friday.
CNOOC, China's largest offshore oil and natural gas developer, said the decline mainly reflected higher costs and lower realized oil prices.
"The decline was caused by a weak upstream crude market. Also, the company doesn't have a strong presence in the oil products retail market compared with the other two giants - PetroChina Co and Sinopec Group," said Wang Yanting, oil product analyst at consultancy JYD Online Corp.
China Petroleum & Chemical Corp (Sinopec) released its annual results last Friday, showing profits of 8.6 billion yuan in the refining sector, compared with a year-earlier loss.
"The refining sector was profitable last year," said Wang.
In comparison, the upstream crude market was weak last year.
In 2013, CNOOC's average realized oil price was $104.60 per barrel, down 5.3 percent year-on-year.
Wang said the high cost of acquiring Nexen Inc contributed to the profit decline.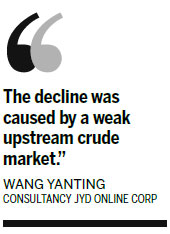 Last year, the company's all-in cost was $45.02 for each barrel of oil equivalent (BOE), up 26 percent, mainly attributable to the relatively high cost of Nexen's assets and new projects.
In 2013, the company continued to increase its investment in exploration, while seven new projects started production.
"Contributions from Nexen won't become apparent for a long time, while the cost of the acquisition was high," said Wang.
CNOOC Chief Executive Officer Li Fanrong said the company made steady progress in all areas of production and operations, while stepping up the pace of its international development in 2013.
Net oil and gas production reached 411.7 million BOE, up 20.2 percent.
Oil and gas sales reached 226.45 billion yuan, up 16.3 percent.
As of Dec 31, 2013, the company had net proven reserves of about 4.43 billion BOE.