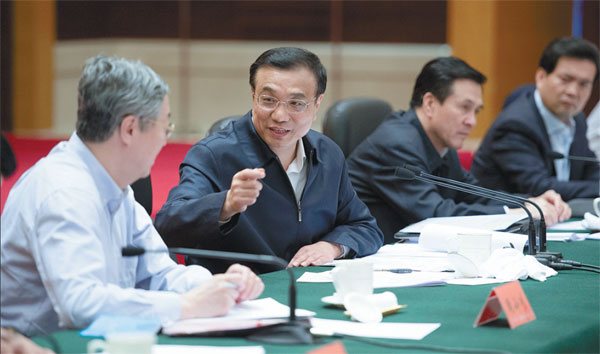 China will stabilize market confidence by assuring supportive measures for economic growth and push forward structural reforms, said Premier Li Keqiang. He made the remarks at a meeting with senior officials from five provincial and municipal governments during a visit to Liaoning province, Northeast China, this week. [Photo / Xinhua]
Li says China has 'ability, confidence, conditions' to maintain momentum
Premier Li Keqiang said the central government will "take seriously" the increasing pressure on economic growth and introduce "effective policies" to target the problems that local officials have complained about.
He said China has the ability, the confidence and the conditions to keep the economy moving along "within a reasonable range". He made the comment during a meeting with senior officials from five provincial-level governments during a fact-finding trip to Liaoning province.
Li didn't say whether the central government will launch a new financial stimulus package to buoy economic growth. Economists have estimated that first-quarter GDP growth probably fell to its slowest pace in almost five years.
In the Chinese context, what "a reasonable range" means is a rise in GDP of around 7 percent, with inflation no higher than 3.5 percent.
China's economic situation is still "generally stable", with positive changes in some areas, the premier said, adding that the country still has "great resilience for development and large room for maneuver".
China also gained experience in coping with a slowdown in economic growth last year, and it's modified its policies to deal with possible fluctuations in 2014.
Li's remarks were intended to adddress global investors' concerns about China's fast-cooling economy, as shown in economic data for the first two months. He said the government will launch relevant and forceful measures according to "what we have planned in our government work report." Reform, which inspires innovation, still has a key role in economic growth, Li said.
"Both the State Council and local governments will further cut red tape and announce administrative approval procedures that have been kept by the government for the sake of clarity and to facilitate public supervision," he said.