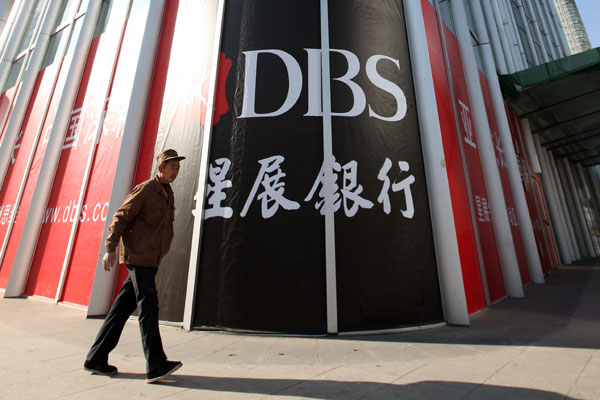 DBS Bank Ltd's Beijing branch. The bank estimates China's GDP grows about 7.3 percent in the first quarter. Provided to China Daily 
Judging from the economic data released so far this year, China's first-quarter GDP growth rate will probably be about 7.3 percent, said DBS Bank (Hong Kong) Ltd on Thursday.
Considering the central government's determination to achieve structural reform, the outlook for consumption and a lukewarm export outlook, the bank said 7.5 percent GDP growth will be a "hard nut to crack" this year.
Lily Lo, an economist at the bank, said: "Premier Li has made it clear that 7.2 percent GDP growth is the bottom line to secure
employment
. It looks like structural reform is a more important task than growth this year for the central government. It will not be a surprise to see GDP growth sit at 7.3 or 7.4 percent by year-end."
Macroeconomic indicators are certainly signalling economic headwinds. The National Bureau of Statistics on Thursday said that total profits for large industrial enterprises grew 9.4 percent year-on-year in the first two months to 779.31 billion yuan ($126.6 billion). The growth rate was 2.8 percentage points lower than the same period in 2013. Large enterprises are defined as those with at least 20 million yuan in annual revenue
Also during the first two months, industrial ouput expanded 8.6 percent, the lowest level since the financial crisis. Retail sales totaled 4.23 trillion yuan, up 11.8 percent, the slowest rate in at least 12 months.
The value of exports declined 18.1 percent in February, confounding expectations of a 6.8 percent gain.
In response, many analysts have adjusted their forecasts for China's growth. For example, Goldman Sachs Group Inc cut its full-year GDP growth forecast from 7.6 percent to 7.3 percent.
Lo said that growth momentum is being affected by the central government's "low" investment target. The target for growth in fixed-asset investment this year was set at 17.5 percent by the National People's Congress, the top legislature, earlier this month.
Weaker manufacturing PMI may signal policy changes
CICC expects China GDP to grow 7.3%