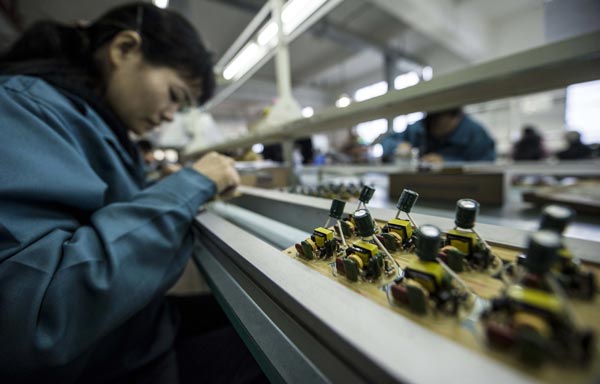 Workers make energy-conserving fluorescent lamps using rare earth three-band phosphorus in Hefei, Anhui province. China exported 22,493 metric tons of the material in 2013,an increase of 38.3 percent over the previous year. Li Yuanbo / for China Daily
The World Trade Organization released a report on Wednesday, saying China's export restrictions on rare earths, molybdenum and tungsten are incompatible with WTO rules.
It marks a second successful challenge to China's use of export quotas and tariffs as an industrial policy tool.
"China regrets that the panel ruled that China's export duties, export quota and related administration measures were inconsistent with the WTO rules and China's WTO obligation," a statement on the Ministry of Commerce's website said.
China's management measures on high-pollution, high-energy-consuming and resource-dependent products are in accordance with the WTO's advocacy of sustainable development, it said.
Following the WTO ruling, China will continue to strengthen its management of resource products and maintain a level playing field, according to the statement.
In 2011, the United States, European Union and Mexico won a WTO case against China on its export quotas on nine industrial raw materials, paving the way for the challenge against its rare earths policy. China's appeal to the WTO appellate body was rejected, and it was forced to remove its export restrictions on the nine materials.
The panel report said China proved that the production of rare earths, tungsten and molybdenum could damage the environment and the health of animals and plants but that it did not provide proof that the duty served a protective purpose or made a substantive contribution to protection.