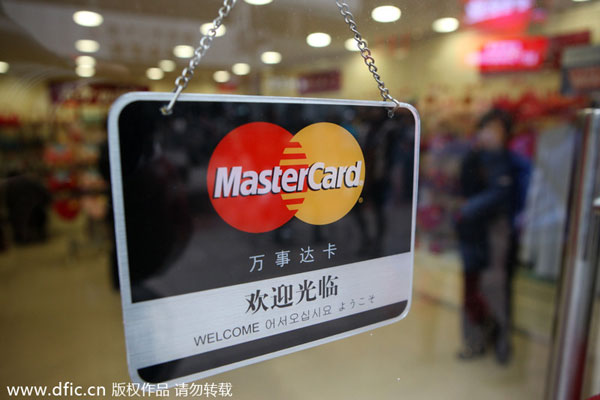 A signboard of MasterCard is displayed at a shopping mall in Shanghai, Jan 22,2013. [Photo/icpress] 
International bank card company MasterCard Inc has teamed up with State-owned China Construction Bank to launch a digital payment service in China, tapping hundreds of thousands of Chinese consumers who do cross-border online shopping on a regular basis.
The joint MasterPass-LongPass enables consumers to make online payments in a way that can store their MasterCard and other branded credit, debit and prepaid card information.
With the MasterPass network, the digital wallet can eliminate the need to enter billing and shipping information, making checkout simple and fast for consumers, said Chang Qing, head of MasterCard China.
"With increasing levels of consumption, this new digital service will bring more value to key stakeholders. The collaboration marks a milestone in our efforts to bring China's payments industry into a new phase," said Duan Chaoliang, general manager of China Construction Bank's credit card center.
The MasterPass was initially launched in February 2013 and is currently used in such countries as Australia, Canada and the United States. China is the first market that MasterCard has chosen to roll out the service in Asia Pacific.
The service will be expanded to other nations, such as Singapore and Brazil, later this year.
MasterPass provides an open platform that gives access to counterpart credit card companies such as Visa and American Express. Chang said the next step will be to move offline as more portable devices can enable seamless payments.
A MasterCard survey found that Chinese customers are the most prolific online shoppers in the Asia Pacific region, with close to 97.8 percent of Chinese respondents surveyed having made at least one online purchase in the past three months.
Further, 17.2 percent of them said they do their online shopping with foreign retailers, a trend that has been growing consistently year-on-year.