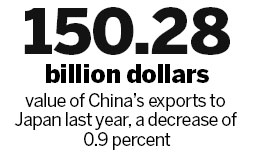 China and South Korea are trying to increase economic ties. They advanced their free trade negotiations at the ninth round of talks in Xi'an, Shaanxi province, in January. "China, as a neighbor and a major economy, is the first choice of companies in South Korea," said Song.
This is shown by South Korean business giants' performance in the Chinese market.
For example, Samsung Electronics Co Ltd saw an 80 percent increase in its sales in China last year, driven by the popularity of smartphones and wide-screen televisions. It's established a second plant in China, its largest overseas project.
China-South Korea trade now exceeds $250 billion annually, according to the Ministry of Commerce. By the end of 2013, South Korea had invested in 56,224 projects in China, with paid-in investment of just under $56 billion.
"We hope to increase bilateral trade to more than $300 billion by 2015," Commerce Minister Gao Hucheng said.
Still, Song cautioned that with China's development, South Korean businesses in China will face increasing competition from domestic producers in their industries.
"When computer giant Lenovo Group Ltd, telecommunications giant Huawei Technologies Co and ZTE Corp are grabbing market share, producers from South Korea may be forced to climb up the value chain in China," said Song.
The prospects for trade and economic ties between China and South Korea look good.
For Japan, however, it's a less optimistic picture, according to Shen Danyang, a spokesman for the Ministry of Commerce.
China-Japan trade contracted 5.1 percent last year to $312.55 billion, accounting for 7.5 percent of China's total trade value, according to Chinese customs figures.
China's exports to Japan dropped 0.9 percent to $150.28 billion, while its imports fell 8.7 percent to $162.28 billion.