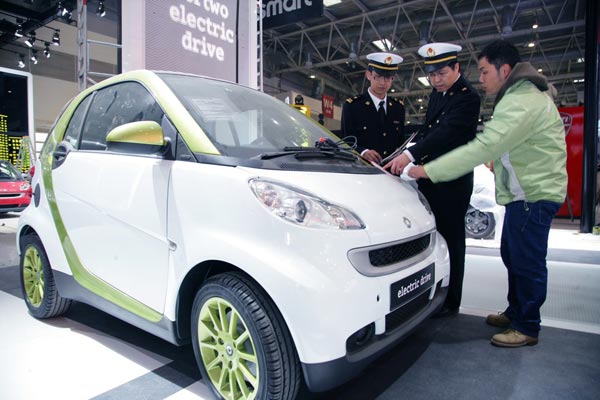 Beijing Customs'staff conduct customs clearance procedure on an imported car. Tang Yanzhi / for China Daily
A new clearance procedure will speed movement of shipments
On July 1, China will for the first time integrate customs clearance in the Beijing-Tianjin region in order to speed up cargo clearance.
According to an a
gree
ment by the customs authorities in Beijing, the Chinese capital city, and Tianjin, the former's closest port city, import and export will no longer have to rush between the two cities in order to clear cargo.
Businesses based in Beijing that import or export cargo from Tianjin can go through declaration and inspection procedures in a single day, and the same will apply to Tianjin-based companies trading from Beijing, said Xie Jinyong, deputy head of the Beijing Customs.
According to the General Administration of Customs, the cargo clearance trial project will gradually expand from Beijing and Tianjin to their nearby Hebei province.
After going through the customs declaration procedures and risk assessment in Beijing, the capital's customs authority will send instructions to release the cargo in Tianjin. It will take only two to three hours for it to be transported from the ports in Tianjin to the site of the company in Beijing, according to the administration.
In the past, Beijing trade firms with cargo to import or export in Tianjin had to go to Beijing to make the tax declaration and then have the goods examined and released in Tianjin.
China's customs regulations have divided foreign trade businesses into five levels: AA, A, B, C and D, depending on their compliance with customs laws and regulations, trade volume and management.
Integrating customs clearance will provide economic benefits to companies in both cities, Xie said.
Beijing customs data show companies can lower logistics costs by 1,800 yuan ($293) to 2,000 yuan per TEU, or 20-foot equivalent unit, thanks to the cut in transportation expenses.
The initiative also will reduce the customs authority's workload in terms of auditing and inspection, it said.
Tianjin relies on its seaport and harbor, while Beijing depends more on its airports. The cooperation between the two customs authorities will provide a model for the rest of the country, Xie said.
According to the Beijing Customs District, the authority examined a total of 730,425 customs declarations in 2013, 82.4 percent of total customs declarations.
The integration of customs clearance not only will make cargo clearance more targeted and relieve the pressure on field operations, but it also will allow customs officers to focus more on high-risk customs declarations.