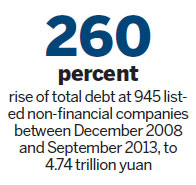 Country's debt risk is 'generally controllable', but more defaults of financial products may occur in the coming months, reports Xie Yu from Shanghai
China's debt issues may continue producing negative noise in coming months, and repayment pressure is bound to increase as more debt matures and economic growth slows, experts said.
Analysts at home and abroad warn that 2014 will see an unprecedented amount of debt mature in all kinds of financing channels, from trust loans to local government financing vehicles.
But the differing credit structure between China and the United States makes chances of systemic disruption slim for the former.
Premier Li Keqiang told a news conference at the conclusion of the annual session of the National People's Congress on Thursday that debt risk is "generally controllable" but defaults of some financial products are hard to avoid.
He also said China "doesn't want to let today's stepping stone become tomorrow's stumbling block".
"Li reiterated the country's determination to abandon its pursuit of growth anchored in investment and exports. The challenge is to digest the stock of debt, formed mainly during the former economic stimulus plan, and not trigger systemic disruption," said Tang Jiangwei, a senior economist with Bank of Communications Co Ltd. "And how to support sustainable growth when easy money is no longer easy."
Media reported on Tuesday that East China's Zhejiang-based property developer Xinrun Real Estate Co, with 3.5 billion yuan ($569 million) of debt, has collapsed and its largest shareholder detained.
Shanghai-based Chaori Solar Energy Science and Technology Co Ltd reported China's first corporate bond default in early March. The company paid 4 million yuan of an 89.8 million yuan coupon payment, due March 7.
China Credit Trust Co was bailed out in January on a 3 billion yuan trust product tied to a failed coal miner.