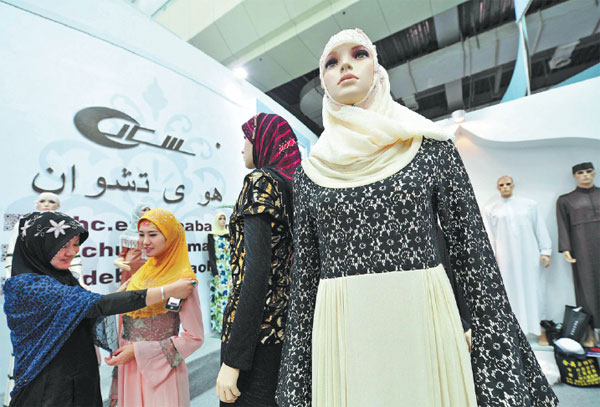 Islamic garments are shown at the China-Arab States Expo in Yinchuan, Ningxia Hui autonomous region. About 35 percent of the Ningxia population is of the Hui ethnic group, which has many affinities with Arab states. Peng Zhaozhi / Xinhua
Hui region to capitalize on Islamic cooperation
Northwest China's Ningxia Hui autonomous region is asking the national legislature to let it streamline approval procedures to attract financial institutions from the Arab world to invest in Ningxia.
Ma Li, mayor of the autonomous region's capital city of Yinchuan, said local authorities are striving to create a model for financial cooperation between China and Arab nations.
He suggested introducing a "green channel" for investors from Arab nations, especially sovereign funds.
He also proposed the establishment of a development bank, in partnership with Arab nations, to promote the development of western China.
Further, he suggested establishing jointly invested financial institutions, including brokerages.
Other parts of his proposal cover financial outsourcing services and increased use of the yuan in trading and settling accounts.
"Trade between China and Arab nations has surpassed $200 billion annually, yet cooperation in the financial field is limited," Ma said.