Creation of a sea trading corridor promises wealth of opportunities
China's coastal provinces are trying to become the key hubs along the new "Maritime Silk Road", a national initiative aimed at strengthening cooperation with the 10-country Association of Southeast Asian Nations.
Fujian is one of the areas that has been actively engaged in developing its ports, particularly the one in Quanzhou, a city recognized by UNESCO as the starting point of the maritime road, said Zheng Xincong, mayor of Quanzhou.
"Although the pertinent authorities are still doing research to decide which provinces will be involved, Quanzhou is in full swing to upgrade the ancient port," Zheng said, adding that improving the port's customs clearance is high on the agenda of the local government.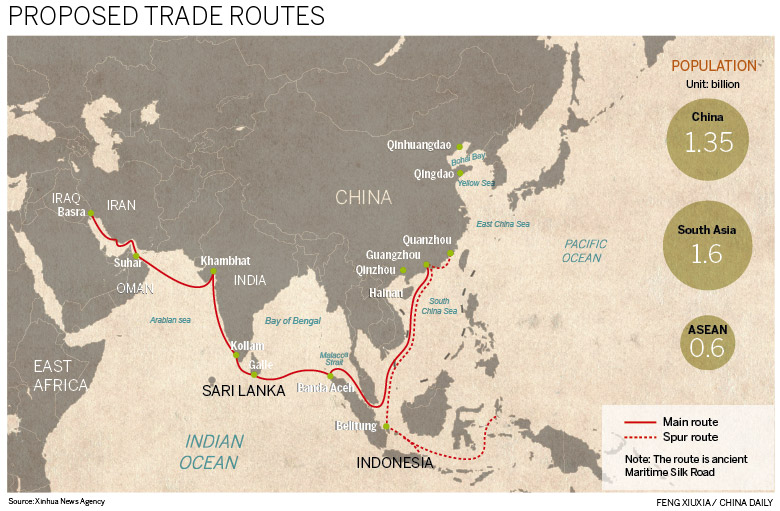 With current cargo capacity of over 1.7 million TEUs, or 20-foot equivalent units, the Quanzhou port has embarked on a large infrastructure development program to increase total capacity.
The port, at an important location on the sea transport network, has opened about 130 shipping routes, establishing trade with 28 countries and regions that include Indonesia and the Philippines.
Xia Guoji, a Quanzhou Port Authority official, suggested that the Quanzhou government collect documents about the port's Shihu Area to submit to the State Council for approval as a free-trade port.
"A free-trade port that will offer great convenience for trade and investment plays a crucial role in building a modern 'Maritime Silk Road', and the Shihu Area, which did well in container service, is the ideal area for free-trade port policies," Xia said.
Apart from Fujian, South China's Guangxi Zhuang autonomous region and Hainan province are also making efforts to develop a maritime industry.
Chen Wu, chairman of the Guangxi Zhuang autonomous region, said the Maritime Silk Road idea brings a golden opportunity to Guangxi, considering ASEAN has been Guangxi's largest trade partner for 13 consecutive years.
The region will enhance joint exploitation of the maritime space of the Beibu Gulf with Vietnam and work on a tourism project that allows people to travel between Guangxi and the ASEAN countries on cruise ships, according to Chen.
Zheng Junjian, secretary-general of the China-ASEAN Expo Secretariat, said this year's expo, which will be held in Nanning, capital of Guangxi, will highlight exhibitions and investment projects that involve maritime cooperation.
Luo Baoming, Party chief of Hainan, said the province is well-positioned to be a part of the new Maritime Silk Road project, given that it serves as the southern gate of the country, administering about 2 million square kilometers of the South China Sea.
Sansha, China's youngest and southernmost city, could become a hub and supply base, Luo said.
With its tropical climate and beautiful scenery, Sansha can jointly develop tourism with neighboring countries and gradually develop into a world-class travel spot and prompt economic ties with Southeastern Asian countries, Luo said.
Luo added that the Yangpu economic development zone, located on the northwestern coast of the province, has the potential to turn into the logistical and industrial base for the road.
The Yangpu zone has one 35,000-ton berth, one 20,000-ton berth and three 3,000-ton berths, with three 20,000-ton berths under construction, according to the zone's official website.
Experts suggest that different provinces should set up distinct projects to match their strategies.
"The Maritime Silk Road initiative triggered active responses from a group of provinces, but these provinces should plan in accordance with their own situations, rather than blindly following suit," said Liu Shuguang, a professor at Ocean University of China.
"For instance, since Fujian has developed trade relations with South Pacific countries, the province should focus on facilitating maritime exchanges with that region," Liu said.
Because the Guangxi Zhuang autonomous region is in the Pan-Beibu Gulf Economic Rim, which involves such countries as Vietnam and Malaysia, Guangxi might concentrate on cooperation with those countries, he said.
Contact the writers at sunli@chinadaily.com.cn and wangqian@chinadaily.com.cn
Li Yang and Su Qiulan contributed to the story