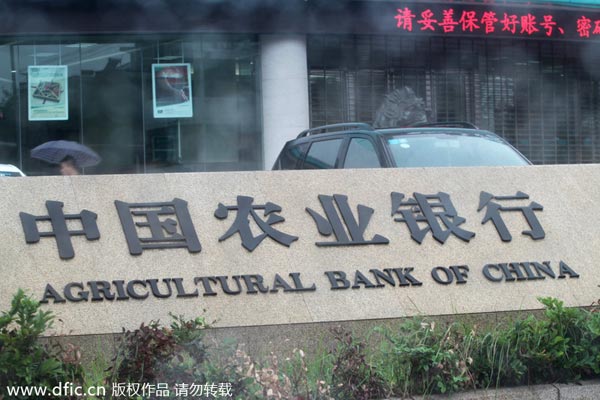 Outside view of a branch of Agricultural Bank of China in Nantong, east Chinas Jiangsu province, Oct 7, 2013. [Photo/dfic.cn]
LONDON - The Agricultural Bank of China is applying for a branch banking license in Britain, said a bank official Monday.
"Europe is one of the vital markets of the bank's global strategy," Guo Youda, the bank's executive vice president in London, told a forum.
Through its subsidiary in London, the bank rolled out "zero time difference" cross-border Chinese currency clearing services for its European clients in December 2013, said Guo.
The bank hopes to be deeply involved in the development of London's offshore renminbi market in order to provide better financial services in the process of economic and trade cooperation between China and Britain, he said.
In 2013, the bank settled cross-border trade of 1.1 trillion yuan. It also provides Qualified Foreign Institutional Investor custody services and conducts investments in the Chinese inter-bank bond market on behalf of its clients.
At the moment, Chinese banks have subsidiaries in Britain but no full-fledged branches.
British Chancellor of the Exchequer George Osborne pledged in Beijing last October that his country would ease restrictions on the establishment of branches by Chinese banks in Britain.
Osborne said in Hong Kong last month that the British and Chinese governments are "in active discussions" about setting up a clearing bank in London for China's currency.
With support by both governments, London stands out as a leading global renminbi trading hub. In June 2013, China and Britain entered into a currency swap agreement. Last October, China said it would allow London-based investors to buy yuan-denominated shares, bonds and money-market instruments in China.
Chinese banks' profits to slip further in 2014
China Merchants Bank's profit growth slows
Chinese commercial bank profits up in 2013
Pudong Development Bank earns $6.7b profit
Bank profit growth set to fall, official says
Profits at Bank of Communications up 9%
Bank of China's profit rises 13%
China Everbright Bank's profit up 13.87%