Access to service sectors to be widened for overseas investors
China will further improve the environment for foreign investors and expand access to service sectors, Commerce Minister Gao Hucheng said on Friday.
"I believe China's comprehensive advantage in attracting foreign direct investment has not changed," Gao said at a news conference on the sidelines of the 12th National People's Congress.
"But the advantage has changed in orientation, structure and the industrial sectors.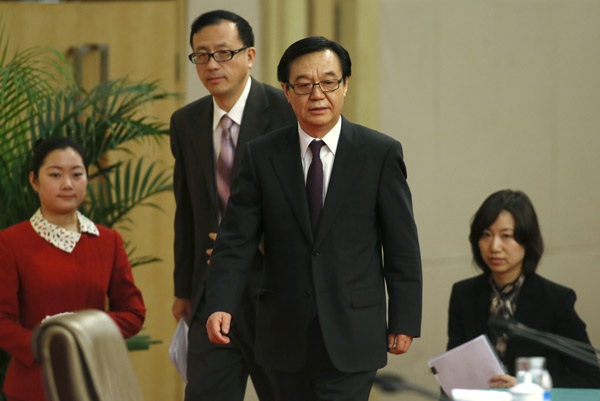 Minister of Commerce Gao Hucheng (second from right) arrives at a news conference on the sidelines of the two sessions in Beijing on Friday. WANG JING / CHINA DAILY 
"For example, half of China's foreign direct investment entered the service sectors last year, which is a fundamental change from the previous scenario of massive investment flows into manufacturing and production," he said.
China's FDI rose by 5.3 percent year-on-year to $117.6 billion in 2013, which is "very significant" when compared with the growth pace of global investment last year, Gao said.
Surveys show that more than 85 percent of foreign companies in China made profits last year and more than 90 percent of them want to increase investment in the country, Gao said.
Responding to complaints of narrowed profits and rising costs, Gao said the preferential policies favoring foreign investors were changed after China joined the World Trade Organization in 2001.
The country's industrial structure and product mix also changed remarkably, with rising costs weakening the competitiveness of labor-intensive products. Meanwhile, many local businesses "grew up" in the domestic market.
To improve the investment environment, "we will make primary studies on opening up, with the focus on service sectors", including banking, education, culture and medicine, as well as general manufacturing, Gao said.
The ministry will join hands with other departments to "increase the percentage of shares foreigners can hold in ventures and ease the limitations on their business scope", the minister said.
"We will make more efforts to create an open and clear legal environment, an efficient and convenient administrative environment and to push fair competition in the market.
"We will pragmatically protect foreign investors' interests and their intellectual property rights," Gao said.
He added that the ministry will streamline policies and reduce red tape for investors wanting to move to less-developed western areas from eastern China to attract more foreign investment.
Wang Jun, an expert at the China Center for International Economic Exchanges, a government think tank, said: "China's economic outlook will be more optimistic amid the government's reform moves. Growth of between 7 and 8 percent, when compared with the performance of other emerging economies, will be attractive to global investment."
China's economy, the world's second largest, outstripped major economies and expanded by 7.7 percent in 2013 despite concerns over a hard landing. The government has targeted growth of about 7.5 percent for this year.
The country's non-financial FDI is expected to reach $121.7 billion in 2014, up by 3.5 percent year-on-year, the National Development and Reform Commission said in its annual report to the legislature on Wednesday.
The report said: "China will relax controls over market access for foreign investment. We will deepen reform of the system for managing foreign investment … We will move faster to open banking, education, culture, medical care and other services to foreign investment in an orderly way.
"We will encourage the China (Shanghai) Pilot Free Trade Zone to lead the way and explore new paths in reform. We will improve the security review system for businesses involving foreign capital."