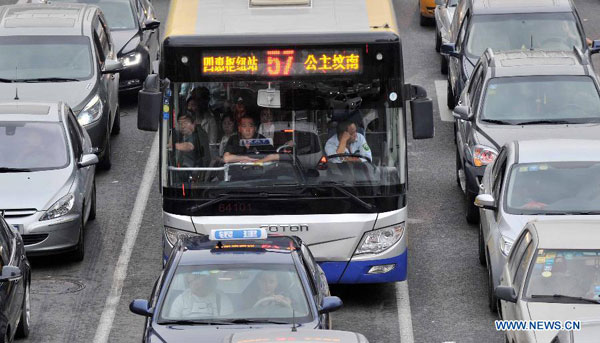 Cars are stranded near the Shuangjing area during the evening rush hour in Beijing, capital of China, Sept 22, 2013. [Photo / Xinhua]
Beijing will reduce its population by 500,000 if 20 State-owned enterprises move their headquarters out of the capital, said an official.
The Tianjin municipality official said relocating headquarters of State-owned enterprises will be the most effective way to relieve Beijing's congestion.
As President Xi Jinping lays down a new roadmap for Beijing's development and management, the capital plans to usher in a major change in its urban landscape. It wants to relocate some departments that do not have core operations away from the capital.
Based on Beijing's position, it should prioritize its industrial structure and focus on projects that stand out, such as high-end service industry, low carbon technology, etc, said the president.
Officials and experts said some institutions that do not serve core role and offices of central enterprises that are not directly related to the national economic lifeline can be shifted out of the capital to surrounding areas, such as Tianjin and Hebei province.
Peking University professor and president of China Regional Science Association Yang Kaizhong said the capital may move some low-end and low-value industries and some public departments based on non-market factors out.